GP Commission measures over tyre issues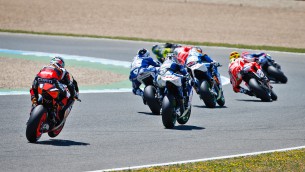 Saturday
, 19 October 2013
The Grand Prix Commission, composed of Messrs. Carmelo Ezpeleta (Dorna Sports CEO), Ignacio Verneda (FIM Executive Director, Sport), Herve Poncharal (IRTA) and Takanao Tsubouchi (MSMA), in an electronic meeting held on 19th October 2013 at Phillip Island, made the following decisions.
SPORTING REGULATIONS
Effective immediately:
Currently the Race Direction is the only body competent to change the length of a race. This competence has been extended to authorise Race Direction to be able to change the length of a race outside of the minimum and maximum lengths defined elsewhere in the regulations.
TECHNICAL REGULATIONS
Effective immediately:
There have been recent situations in which teams and riders have ignored the recommendations of the official tyre suppliers on issues such as tyre pressures. It is suspected that this has led to cases of abnormal degradation of tyres affecting the safety of the riders.
A new regulation has been approved which will compel teams and riders to use the tyres according to the parameters agreed by the Technical Director and the organisers in consultation with the official tyre suppliers.
The full text of the regulations may be viewed here.
Latest news
Tuesday, 16 September 2014

Monday, 15 September 2014

Sunday, 14 September 2014

Saturday, 13 September 2014

Wednesday, 10 September 2014

Thursday, 4 September 2014

Tuesday, 2 September 2014
Read more »
Tuesday, 16 September 2014

Monday, 15 September 2014

Sunday, 14 September 2014

Friday, 12 September 2014

Wednesday, 10 September 2014

Tuesday, 9 September 2014

Thursday, 4 September 2014

Tuesday, 2 September 2014
Read more »