Gobmeier: "Level of the competition very high"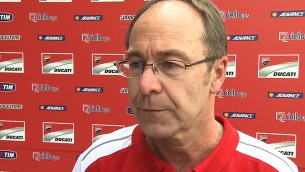 Ducati Team are under no illusions that the 2013 MotoGP™ year is all set to be a continuation of 2012, including some of the frustrations that beset both Nicky Hayden and Valentino Rossi. With the latter having now left and been replaced by Andrea Dovizioso, the team is taking each step as it comes.
From this season onwards, Germany's Bernhard Gobmeier has been appointed General Manager of Ducati Corse as he continues to stress a process of gradual improvement as opposed to a dramatic overturning of the outfit. At the same time, he acknowledges that at least two rivals are making large strides.
"The level of performances we are seeing from our competitors is very, very high," Gobmeier admits to motogp.com "Especially Jorge (Lorenzo, Yamaha Factory Racing) and Dani (Pedrosa, Repsol Honda Team): they have made some very big advancements. Even with the changes we have made, we are still struggling to catch up."
Following last week's Malaysian test session, Gobmeier adds:
"What we are having is an intermediate result. Like I say, we need some more time to adjust and develop, but we are pretty happy with it. I try to get the opinions of all the riders, gathering all information from everybody to get a more global picture into what is going on with all five riders. We like to know that each step is really confirmed because you have to check it works on both one track and the next."
Last week, it was announced that Gobmeier's Ducati Corse predecessor Filippo Preziosi – who took up the role of Director of R&D for Ducati Motor Holding – has now departed the company on grounds of poor health.