Honda looks back on 2012 season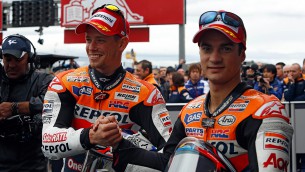 Honda's off-season MotoGP testing programme got underway at Valencia with new Repsol Honda team-mates Dani Pedrosa and Marc Marquez getting their first post-2012 season laps aboard their RC213V machines. With preparations for 2013 underway, Honda can look back on a 2012 season full of many successes.
Although the MotoGP's riders' World Championship eluded Honda, the factory won 12 of the season's 18 races and claimed the premier-class constructors' World Championship for the second consecutive year and for the 19th time in total, a record. The success was Honda's 61st constructors' crown across all Grand Prix classes, another record.
Honda took the 2012 MotoGP constructors' title thanks to the hard work of its brilliant HRC engineers and the spellbinding riding of Repsol Honda stars Dani Pedrosa and Casey Stoner. Pedrosa won seven races aboard his RC213V to finish second overall in the riders' title chase, while 2011 World Champion Stoner won five, despite missing three events through injury, to finish third overall.
"To win back to back the constructors' title, our 61st, is a wonderful achievement and it is a credit to our dedicated team and talented riders," said Tetsuo Suzuki, HRC President and Senior Managing Officer and Director of Honda R&D Co Ltd. "This second successive title is testament that HRC is stronger than ever.
Unfortunately Dani missed out on the riders' championship by the narrowest of margins. He fought until the end and we congratulate Jorge Lorenzo on a very strong season. We are sorry to say farewell to our 2011 champion, Casey, and we wish him the very best for his future. I must thank all our sponsors and technical partners for their on-going valuable support and input, and also thanks to all our fans around the world. We hope to repeat this victory again next season!"
Honda has won the premier-class constructors' crown with six different machines that all display the company's unerring dedication to engineering excellence. The air-cooled RC181 four-cylinder four-stroke gave Honda the championship for the first time in 1966. After a decade out of GP racing Honda won the title again in 1983 with the brilliantly rideable NS500 two-stroke triple. Then the all-dominant NSR500 two-stroke four secured the crown on no less than 11 occasions. In the four-stroke MotoGP era Honda has won the title with the RC211V 990cc V5, the RC212V 800cc V4 and now the RC213V 1000cc V4.
Pedrosa and Stoner weren't the only Honda MotoGP riders to impress during 2012. Two newcomers to the RC213V also showed great quality: Álvaro Bautista (San Carlo Honda Gresini RC213V) scored his first MotoGP pole position and took two podium finishes, while Rookie of the Year Stefan Bradl (LCR Honda MotoGP RC213V) showed great speed and intelligence in his first season in the class of kings.
During 2012 Honda also continued its support of the Moto2 World Championship, which is powered by mildly modified CBR600RR street bike engines. In its third season Moto2 continued to provide thrilling racing, thanks to strict technical regulations that require riders to use control engines and other control parts that equalise performance. With the machinery so equal, Moto2 puts the onus on rider talent.
The 2012 Moto2 title went to brilliant teenager Marquez (Team CatalunyaCaixa Repsol-Suter), who has now replaced the retiring Stoner at Repsol Honda. Marquez showed his class by winning nine of the year's 17 Moto2 races. The Spaniard won the title by 56 points from compatriot Pol Espargaro (Pons 40 HP Tuenti-Kalex).
Following the success of Honda's involvement in Moto2 since 2010, the series will continue to use CBR600RR engines for the next three seasons.
While Honda's involvement in Moto2 continued during 2012, the factory also enthusiastically embraced the new Moto3 World Championship with its NSF250R four-stroke single. Honda doesn't run a factory team in Moto3, preferring to look after as many riders as possible, all on equal terms.
NSF250R-powered machines were the most popular machines on the Moto3 grid, some riders running the NSF engine in Honda's standard chassis, others opting to install the engine in chassis manufactured by FTR, Suter and TSR.
Honda scored seven victories from the 17 Moto3 races, Maverick Viñales (Blusens Avintia FTR Honda) taking five wins while Romano Fenati (Team Italia FMI FTR Honda) and Louis Rossi (Racing Team Germany Honda) took one win apiece.
Press release courtesy of Honda Racing Corporation.
Latest news
Thursday, 22 January 2015

Thursday, 4 December 2014

Thursday, 27 November 2014

Tuesday, 25 November 2014

Wednesday, 19 November 2014

Tuesday, 18 November 2014
Read more »