Josh Herrin: America's next big hope?
Moto2™ is powered by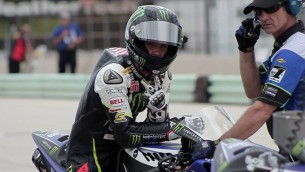 Josh Herrin will make history in 2014 as the 23-year-old becomes only the second full-time American rider in the history of Moto2™. The newly-crowned AMA Superbike Champion will migrate to Europe, having being signed by Caterham Moto Racing Team as the Tony Fernandes-owned outfit ventures into motorcycle racing for the first time.
As Caterham branches out onto two wheels, Herrin is all set for a new adventure of his own. Hailing from Glendale, California but currently residing in Georgia, he will journey to Europe while chasing the eventual dream of becoming MotoGP™ World Champion. Following the announcement of his Caterham deal, Herrin speaks with motogp.com.
Firstly, congratulations! You are the AMA Superbike Champion - how does that feel?
I have been trying to win a championship in the AMA for a few years and have had some really bad luck. We have pretty much had it in the bag three times and then something bad happened at the end of the year, so to finally get it was a great feeling for us. However, within 30 minutes of winning the title I had signed the Moto2™ deal, so it was almost as though the championship wasn't as important to me anymore. That was kind of strange, but to be able to go and race with the MotoGP™ calendar is something I have wanted to do since I was a little kid, so it is way more important than my championship win [laughs]!
Do you reckon winning the AMA Superbike title made a difference, when it came to Caterham signing you for their first ever Moto2™ season?
It may have. We had talked about being together with them, but it just so happened that the timing was perfect in that, on the Sunday of winning the title, we got the deal with Caterham. I believe we would have got it a little bit later, but I told Bob (Moore, personal manager) that I wanted to try and get it done so I could announce it at our awards banquet – that is why we did it right after the race. I do think, if I was a team owner, that a rider who can win a championship is more valuable. People don't remember races as well as championships so people know that, if a rider is consistent enough to win a championship, they can do it again.
When did you first learn of the Caterham Moto2™ project and when did they first get in touch with yourself?
Bob has been over there this whole year, trying to get a Moto2™ deal for us. As soon as he found out about Caterham around August time, he told me about it. Right from then, it all escalated pretty quickly and we were able to agree some things. It all went a lot quicker than I thought it would, but I was really happy about it and of course had done my research. I figured that, if somebody can run a good Formula 1 team, they could be good in Moto2™ - especially because, budget-wise, it will be less demanding that a Formula 1 team.
Caterham's entrance is unprecedented for Moto2™ as they are joining the category as a fully-fledged F1 outfit based in Leafield, England…
Yes, I am excited about it. With them being a new team in Moto2™, at first I was thinking that it might be risky because you don't know how they are going to do, but if they can run a Formula 1 team they can run a Moto2™ team; it is a spec engine, the chassis is already there for them and all they need to do is assemble a great crew in order to get everything dialled in before the season starts, so it should be a great year. We have already had a conference call with a few of the guys from the team and that really made me feel good; they instantly welcomed me to 'the family', as they called it, and have made me feel really at home.
There are so many quick Moto2™ riders around who could have been selected for Caterham's line-up. It must have felt special when you were approached…
Yes, that felt good. The past few years, as I have been riding 1000cc bikes, I really feel like my riding style is better suited towards the GP tracks. In America, we generally have tracks which are a lot tighter, but whenever we go to a track like Miller (Miller Motorsports Park, Utah) which is a little wider and more of a European-style track, I always seem to do well. I have always had a very aggressive riding style and I feel like that could also suit me well in the World Championship. My riding style has always remained the way it was from when I rode 600s, which we explained to Caterham, so I feel like that is one of the things that maybe made them choose me and hopefully my knowledge on a 600 is something I can bring to them. I think I have probably had more track time on a 600 that a lot of the guys in Moto2™, so hopefully I could be in a decent position as far as that goes.
How closely have you been following the World Championship general this year?
I find myself watching more of the Moto2™ races, as that is what I want to go and do! Then I usually watch the highlights of the MotoGP™ races; I am a huge fan and watch all of them, but with the time difference to America and bearing in mind how busy we are, I can't always watch live. But I always make sure I watch the Moto2™ stuff – it is super tight racing. Our 600 class in the AMA is also tight like that with probably the top six or seven guys, but with Moto2™ it is like that right back to about 20th place and well into the second half of the race – that is going to be pretty crazy!
Nicky Hayden has been short of success over recent years and Colin Edwards is now in the latter stages of his career. How does it feel to be joining the World Championship as an up and coming American rider?
That is one of the good things for us. Hopefully Nicky will have a better bike and programme for next year which allows him to do well. That would definitely be good for him. Nobody has ever done a full season in Moto2™ as an American, so I think that is the coolest thing: I will be the first one to do that and hopefully we will make a good impression and open some doors for other Americans to come through in the future, as it has been kind of dry for us over the past couple of years - I would like to open that back up.
Do you have any heroes of your own from the MotoGP™ world?
When I was little, Nicky was just coming into it, so he was the one I always watched, but my dad was always a fan of Schwantz and Rainey and so on. In fact, I still have a poster of Wayne Rainey hanging up in my office and I consider him a friend of mine; I go and visit him every time we go to race at Laguna Seca. But Nicky has certainly always been one of my heroes in racing.
Will you be visiting any MotoGP™ events before the end of the season?
I will be in Valencia, for sure. It is quite weird because Valencia is the first ever track on which I saw GP bikes testing, right when the four-strokes were coming out at the start of the MotoGP™ era. I went there for a mini bike race! We got to race there the day after MotoGP™ had been testing, which was pretty cool. This year I will be there watching!
Is it fair to ask about targets for next season – or too early to ask?
I think it is still too early to ask! Solely because I don't want to make anybody angry by saying I will go out there and do really well; right now, I obviously don't know for sure whether I will. As all racers do, I just want to go out there and win. However, all of the tracks are going to be new to me and so will the bike, as well as the racing itself. I would just like to be able to go out and do well and I think Caterham are expecting me to do well. I know that I can. At the beginning, it will be a lot to take in: moving to Europe, new tracks, new bike, new everything. I always set high expectations for myself. I think the key is to always expect more from yourself than everybody else does, but if you arouse too much self-confidence you are not going to achieve anything; so, I am going to every race that I enter hoping that I win and thinking that I can. That is what I hope to do, but we will see what the reality is.
Latest news
Thursday, 30 October 2014

Wednesday, 29 October 2014

Saturday, 25 October 2014

Wednesday, 22 October 2014
Read more »
Wednesday, 29 October 2014

Saturday, 25 October 2014

Thursday, 23 October 2014

Wednesday, 22 October 2014

Saturday, 18 October 2014
Read more »