Kevin Schwantz on Marquez and Rossi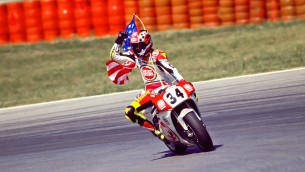 Friday
, 20 September 2013
With just five races remaining in the 2013 MotoGP™ season, the tension is building in the championship battle. Exactly 20 years ago, Kevin Schwantz was to become World Champion. He shares his thoughts on new title contender Marc Marquez, as well as a master of past years in the form of Valentino Rossi.
In 1993, Schwantz would become the United States' last premier class title winner for seven years. Two decades on, the Texan talks of MotoGP™'s latest star from Spain.
"I watched pre-season testing and he had good speed from the get-go," Schwantz says of Repsol Honda Team's Marquez, speaking in the Keeping Track podcast run by the Tissot Australian Motorcycle Grand Prix.
"But I wasn't sure if he'd have the race finesse because, although the bikes are a little easier to ride than the old 500cc bikes, they are still not easy to race. So for him to jump on the bike and then, by the time they got to Austin, to win that race in a convincing fashion…and if he had not made the mistake at Mugello he would have probably finished second and would now perhaps have a 50-point championship lead.
"He riders that thing on the ragged edge. He crashes on a Sunday morning like he did at Silverstone and Misano, but he bounces well! He is only 20 years old and nothing scares him."
However, Schwantz does believe Marquez could be beatable in 2013.
"I think Jorge (Lorenzo) has the race craft to keep pressuring Marc," the Texan continues. "He has to keep the pressure on in practice and qualifying, too. I think he is the only one who could do it and beat Marc. Or Marc could do it himself…"
Moving on to discuss Rossi, who clinched every MotoGP™ title between 2001 and 2005 as well as those of 2008 and 2009, the 49-year-old feels that something is still lacking for the seven-time premier class World Champion.
"I said at the start of the season that I thought he would win races this year," Schwantz continues, "but what I thought he was going to find hardest would be figuring out how to go with the same pace as the other guys from early on. Then he made a good start at Misano in the early laps and was right behind Lorenzo, before Marquez got in front of him and he drifted back to fourth.
"I think there is just something a little bit missing with Vale now. If he could get a little bit more confidence with the motorcycle and in himself, then he could get with those guys at the start of the races and stay with them. That's where the race should be won or lost. I think he's still got the speed, we've seen that later in races - he's still as fast as anybody."
With a quintet of Grands Prix remaining in 2013, Marquez heads up the World Championship and has done so since the first half of July. Rossi (Yamaha Factory Racing) sits fourth overall, 84 points in arrears of the debutant.
Latest news
Thursday, 23 October 2014

Wednesday, 22 October 2014

Saturday, 18 October 2014

Thursday, 16 October 2014

Wednesday, 15 October 2014

Saturday, 11 October 2014
Read more »
Thursday, 23 October 2014

Wednesday, 22 October 2014

Saturday, 18 October 2014

Thursday, 16 October 2014

Saturday, 11 October 2014
Read more »