Zulfahmi Accorded 1Malaysia Ambassador Award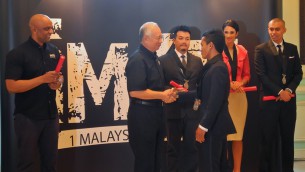 Malaysia's Moto 3 rider Muhammad Zulfahmi Khairuddin, who will be riding for the world champion Red Bull KTM Ajo Racing Team, has received another psychological boost in his build up for the new 2013 season with the 21-year old rider being honoured with the 1Malaysia Ambassador award.
Receiving the prestigious award from Prime Minister Datuk Seri Mohd Najib Tun Razak along with 19 other national icons including Olympians Datuk Lee Chong Wei and Pandelala Renong in Prime Minister Office at Putrajaya today, the Banting-born rider said that he was truly honoured to be bestowed with the prestigious award.
"I am truly touched and honoured to receive this award; especially from the Prime Minister himself. This is indeed a proud moment for me and my family, and I would like to thank YAB Dato' Sri Mohd Najib and the Malaysian Government.
"This award is undoubtedly very special to me and it will definitely spur me further to work harder and to perform better and stronger this year," said Zulfahmi, who made Malaysia proud with his dazzling performance in last season's Moto3 world championship.
Finishing seventh overall with an impressive haul of 128 world championship points, Zulfahmi also penned his name in the history books by becoming the first Malaysian to score podium wins at the world GP after finishing second at the Malaysian Motorcycle Grand Prix and third at the season-ender in Valencia. He is also the first Malaysian to score pole position; accomplishing the sensational feat on his 21st birthday on October 20, 2012 infront of the home fans in Sepang.
A product of SIC's GP Wildcard Programme in 2009 and competing in his first international race at the 2009 Malaysian Motorcycle Grand Prix as a wildcard rider, Zulfahmi become only the second Malaysia rider to compete in a full season at the world GP in 2010 after Shahrol Yuzy Ahmad Zaini when he competed in the GP125 class in 2010.
Malaysian riders had struggled in the past even to earn wildcard rides; but Zulfahmi has proved that it is not impossible for a local to make it at the world stage as the Banting-born rider upstaged the performance of his predecessor and mentor, Shahrol Yuzy, whose best result in his three-year stint at the world stage in the GP250cc class was seventh position in a race at Jerez in 2002.
Flying the Jalur Gemilang with pride, Zulfahmi moved into the new Moto3 class last year following the end of the 125cc class and immediately displayed his credentials as a top world class rider that included a fourth place finish as early as Round 2 at Estoril in Portugal.
By then, his races were already closely followed by his fast growing Malaysian fans and more young riders looked up at Zulfahmi as their idol and all wanting to follow his footsteps to compete on the world stage.
Commenting on this, Zulfahmi, who now occasionally gives pep talks and meeting fellow young riders during events organized by SIC and the Youth and Sports Ministry, said he felt privileged and thankful that he could be an inspirational figure for other young Malaysians.
On the upcoming season, Zulfahmi said that while he would undoubtedly put in his best efforts and always putting the extra initiative, it was still too early to put any specific targets for the new season.
"It's still too early to set any targets … but, I have working on a lot of physical and outdoor training as well as working on mental fitness. I ride motocross, supermoto and mountain bike a lot during this post season in Malaysia.
"Hopefully, this will help me to be more successful this season, God willing," said Zulfahmi, who starts his fourth full season in the FIM World Motorcycle Championships with the young Malaysian lining up alongside with Australian Arthur Sissis and Spaniard Luis Salom in the world championship team.
The new season opens with Qatar Grand Prix at Losail Circuit on April 7. Malaysia hosts Round 15 at Sepang International Circuit from October 11 to October 13.
Leaving for Europe at the end of the month to join the team, Zulfahmi would be involved in the official pre-season test in Valencia in March before the real action begins in April.
Press release courtesy of Sepang International Circuit.