Khairuddin thrilled as MotoGP™ spectacle grows in Malaysia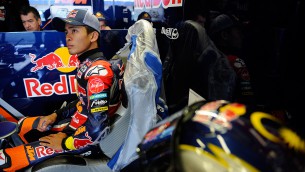 Last year's Malaysian Grand Prix delivered various dramas, but it is the Moto3™ race that is perhaps best remembered by local fans after Zulfahmi Khairuddin missed out on victory by just 28 thousandths of a second. Hailing from the state of Selangor, the 21-year-old is fervent about the sport's ever-growing presence in his country.
Khairuddin made his debut in 2009, riding a 125cc Yamaha at Sepang. Over the next three seasons he would compete for three different marques, including the transition to Moto3 in 2012 when he achieved his maiden pair of podium finishes.
"Now in Malaysia there are many people who have begun to follow the World Championship, especially Moto3," he says. "Each year we have more spectators attending the Malaysian Grand Prix and this year I hope even more come. People are starting to watch every race on television, including races like the United States rounds which are always on in the early hours of the morning. In my house, my family and all my friends are even there watching testing!"
Following on from the recent Moto3 test at Jerez, Khairuddin is thoroughly looking forward to beginning the season and dueling with Red Bull KTM Ajo teammates Luis Salom and Arthur Sissis.
"I can't wait to start," he continues. "To be honest, this year the bike has quite surprised me because it has improved a lot compared to last year. It's much improved. Weight is one of the notable differences this year; it is much lighter now and we have a new chassis, but I think that there is still a lot of work to do before the season starts.
"I hope to finish all the races and fight for a final position that is better than last year's."
Although he impressed with respective second and third place finishes in the Grands Prix of Malaysia and Valencia, earlier struggles left Khairuddin seventh in the 2012 Moto3 standings as the class' first crown was won by Germany's Sandro Cortese.
Latest news
Saturday, 13 December 2014

Wednesday, 10 December 2014
Read more »
Thursday, 4 December 2014

Thursday, 27 November 2014

Tuesday, 25 November 2014

Wednesday, 19 November 2014

Tuesday, 18 November 2014
Read more »