Khairuddin's name makes Malaysia Book of Records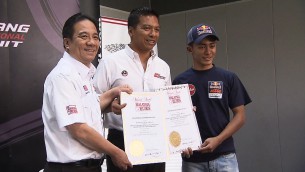 Wednesday
, 27 February 2013
As MotoGP™ testing continued at the Sepang International Circuit on Wednesday, an upcoming rider was entertaining guests in the paddock. Zulfahmi Khairuddin delighted his nation by finishing second in his home Moto3™ race last year and his name can now be found in the Malaysia Book of Records.
Now 21, Khairuddin's Sepang podium result of 2012 confirmed him as a household name in Malaysia. He backed this up with a third place finish in the Valencia season-closer just three weeks later. On Wednesday, the Selangor-born rider was officially penciled into the Malaysia Book of Records.
"I would like to thank Sepang International Circuit, AirAsia, KTM and all my sponsors for making my childhood dream to compete in the MotoGP World Championship possible," the Red Bull KTM Ajo rider commented. "It has indeed been a fantastic journey for me."
Today's ceremony was attended by a selection of media and special guests, including SIC Chief Executive Officer Dato' Razlan Razali, Malaysia Book of Records Managing Director Datuk Danny Ooi and representatives of AirAsia and Ministry of Youth and Sports Malaysia.
"We are very proud of Zulfahmi and hoping for the best performance from him for his new season with the new team," added Encik Azman Maarof, representative from Ministry of Youth and Sports Malaysia. "We will keep supporting this very talented rider and it is a great opportunity to have him at the World Championship."
Khairuddin's latest achievement adds to a list of significant attainments this year, as he was also recently honoured by the Sportswriters Association of Malaysia and presented by Prime Minister Datuk Seri Mohd Najib Tun Razak with a prominent 1Malaysia Ambassador award.