Laverty confident of challenging for CRT title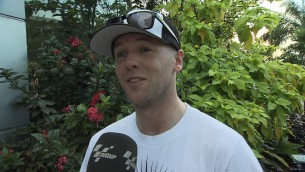 Michael Laverty and Paul Bird Motorsport demonstrated great potential at Sepang this week. Although there was a significant delay in preparing the in-house built bike's electronic system, his pace later in the test gave the Northern Irish rookie enough confidence to hope for a CRT title attack this year.
Before heading to Malaysia, the PBM chassis – running an Aprilia engine as opposed to teammate Yonny Hernández, whose entire bike is an Aprilia Racing Technology package – was yet to hit the track. Yet Laverty was still able to notch up a total of 43 laps and even out-pace the Colombian.
"It's been three days of trying to be patient!" Laverty laughed in a video interview with motogp.com "In the end we started at 2pm on Thursday and had half a day of testing out of three days. Putting the Magneti Marelli ECU onto the Aprilia engine has proven to be a little bit tougher than anticipated; it's taken a lot of work from the Marelli guys to get everything working.
"When I got on-track I thought, 'Yes, this now feels like a racing bike!' The throttle response was feeling normal and I could ride it. We've worked really hard over the test but unfortunately just started to run out of time; but in the end it was starting to feel really good and we could push the chassis – that's the major bonus of it, I think. For a brand-new bike that has only just done its first laps in anger and to be only seven tenths of a second off the ART bike I used at the first test, I think the potential is there and the bike can be really good."
Moving on to discuss his expectations for 2013, the 31-year-old from Toomebridge concluded:
"Everyone expects it to take some time, but the potential is there already. I think we could have something with which to challenge for top CRT honours this year."
Laverty makes his MotoGP™ debut after three years of finishing in the top five of the British Superbike Championship.
Latest news
Thursday, 19 February 2015

Wednesday, 18 February 2015

Tuesday, 17 February 2015

Thursday, 12 February 2015

Wednesday, 11 February 2015

Tuesday, 10 February 2015

Thursday, 22 January 2015

Thursday, 4 December 2014

Thursday, 27 November 2014
Read more »