MotoGP™ stars all smiles as press conference kicks off Le Mans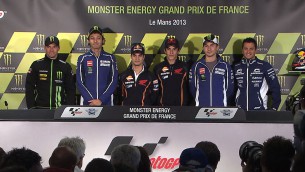 Repsol Honda Team's rookie championship leader Marc Marquez was joined by last race winner and teammate Dani Pedrosa, Yamaha Factory Racing's defending champion Jorge Lorenzo, his teammate Valentino Rossi, Monster Yamaha Tech 3's Cal Crutchlow, as well as Power Electronics Aspar's local rider Randy de Puniet as proceedings kicked-off at the pre-race Le Mans press conference.
Marquez, who comes straight off the back of his controversial last corner move on Lorenzo in Jerez last time out, is wary that possibly wet conditions could make things more tricky: "It could be difficult in rain conditions, especially for a rookie rider. I've already tried the bike in rain conditions and you can really push a lot. We'll try to do our best and be close to the front."
Pedrosa, who stormed to a convincing win at his home race, is awaiting the first practice tomorrow before making any predictions: "We've done many poles at Le Mans, but it's always a tricky weekend because of tyre choice. It's kind of a difficult place. I've got back the good feeling with the bike and we had a good test the Monday after Jerez, but I don't know how much dry or wet time we'll have."
Lorenzo, who convincingly won at Le Mans in the wet last year, is happy to be back: "It's always a pleasure to be here. Also, for my riding it's a good track and I think the Yamaha should be good. In Jerez we had issues with the front, but we tried many things in the test, and it's colder here, so I hope we should be ok."
Le Mans is one of the places Rossi tasted rare success whilst still on a Ducati, and is hoping for more of the same with his Yamaha M1: "We're still working on the best balance of the bike, as I'm still struggling under braking. But I like this track, and the weather will be very important. We have a few things to try tomorrow and will see how the bike works in the lower temperature."
Crutchlow, for whose team this is the home Grand Prix, is expecting an improvement over Jerez: "The Yamaha maybe works well in the cold, as we've seen in morning sessions before. We need to look at the bike and strategy. I'm pleased with my bike, and if we could get a good result it would be great for the team's home GP." And on speculation about his future he remained tight-lipped: "There's nothing I know at the minute, but will focus on race to race."
De Puniet will be aiming to fight for that CRT top spot that has so far eluded him, in front of his home support: "For me this GP is very important, not just because it's my home race, but I also need to start my season. My teammate is very fast, and I need to do very well to beat him at the end of the year. The biggest thing this year is the new rear tyre, which helps a lot." He also responded to questions regarding his link with Suzuki: "I can't say anything now, but I am speaking with Suzuki, and it could be a good opportunity. If I can help develop the bike at the same time and focus on this season it would be good – but my focus is with Aspar."
The united press fielded the inevitable question about how Marquez and Lorenzo are getting on following their Jerez last-corner incident - especially as a rider briefing with race direction had stirred up rumours earlier in the day.
Lorenzo commented that he understood Marc's actions, yet was keen to clarify the use of the new points system: "When you see some space, you try it! I have nothing against Marc. But we are not using this points system, and I'd like us to use it. I think you can become a more logical rider – I only changed in 2005 because I was penalized." Marquez's stance was: "If you do that on the first lap or in the middle I can understand a penalty. But on the last lap….I think fans like it."
There were laughs as Lorenzo joked about the two sharing a flight back after the race, only one seat apart, saying: "There are almost 300 people on the plane and we are next to each other. It was funny. Then we shook hands [for the first time after the incident]. Like I say, I have no problem with Marc, I just want to improve the safety of my sport."
Latest news
Saturday, 13 December 2014

Wednesday, 10 December 2014
Read more »
Thursday, 4 December 2014

Thursday, 27 November 2014

Tuesday, 25 November 2014

Wednesday, 19 November 2014

Tuesday, 18 November 2014
Read more »