Yamaha's Jarvis outlines lease engine details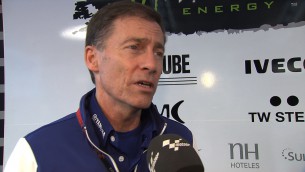 Yamaha Factory Racing's Lin Jarvis spoke with motogp.com ahead of this weekend's Italian Grand Prix. The Managing Director shared more on the new lease engines that can be used from the start of 2014, including the fact that they will be paired with the standard Magneti Marelli ECU to have a 24-litre fuel capacity.
As announced earlier this year, Yamaha will be offering lease engine deals to four entrants from the start of 2014, costing 800,000 euros per rider, per season.
"That could either be two teams of two riders, one team of two riders and two single riders, or four teams (of one rider each)," Jarvis explains at Mugello. "We would prefer to have two-rider packages because it is easier for us to work with. The reason we decided to lease (as opposed to selling engines) is because we will put our latest technology in those engines, so the engines we will provide will be pretty similar to the Tech 3 engines. That is top level technology and we don't want that technology to come into third parties' hands, so that is why we have to lease because at the end of the year we will take back everything. In fact, with the engines we provide, we will do all of the reconditioning of the engines ourselves.
"Together, Yamaha and (MotoGP commercial rights holder) Dorna will decide which will be the selected teams. The team has to make the contract and the relation with the chassis supplier, but obviously to do that the chassis supplier needs to understand what Yamaha will provide. So in the back office we have been discussing with all three current chassis manufacturers that are out there…whether it be Kalex, FTR or Suter, all three are top-level companies and I am sure they are all very capable of making a competitive chassis."
Jarvis went on to discuss that, although private teams running the lease engines will not be able to develop their own ECU software, they will be able to enjoy 24 litres of fuel per race. On the contrary, those outfits which are part of the MSMA (Motorcycle Sports Manufacturers Association, consisting of Yamaha plus Ducati and Honda) may develop their own ECU software but will be constricted to 20 litres of fuel Grand Prix.
"The difference is really in the software you use," Jarvis continues. "With the agreement that is in place for next year, everybody will use the Dorna-supplied Magneti Marelli stock ECU (hardware). The difference for the MSMA entries is that we may modify the software by our own adaptions and modifications, but that will have a penalty for us because it would mean we have got to run with 20 litres of fuel, which is one litre less than this current season. With the (privately-entered bikes currently known as CRT), although they will use the same hardware, they will be obliged to use the stock Marelli software but that will give them the freedom to use 24 litres of fuel. It will be very interesting to see the relative competition."
Coy when asked to name the teams he is talking to with regards to lease engine supply, Jarvis did mention that they should be named towards the end of this month.
"We have been talking to several teams already," he begins to sum up. "The target deadline for us is the end of June; we will need a decision by then because we have to produce and manufacture all of the engines to be ready for testing at the end of the season. The next five weeks will be critical in deciding what next year's programme will be."
The full interview with Yamaha's Lin Jarvis can be viewed on motogp.com.
Latest news
Thursday, 19 February 2015

Wednesday, 18 February 2015

Tuesday, 17 February 2015

Thursday, 12 February 2015

Wednesday, 11 February 2015

Tuesday, 10 February 2015

Thursday, 22 January 2015

Thursday, 4 December 2014
Read more »