Lorenzo: "Márquez and Rossi both in contention"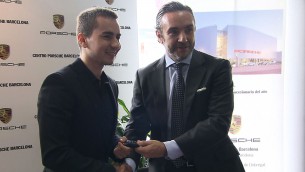 Jorge Lorenzo has no doubts that Repsol Honda Team's Marc Márquez will be challenging for race victories from the start of his MotoGP™ career. At the same time, the current world champion is also watching over his shoulder for returning Yamaha Factory Racing teammate Valentino Rossi.
In 2013, Lorenzo is aiming to defend a MotoGP title for the first time since Rossi achieved the feat four years ago. He continued his year by topping the latest test session in Malaysia last week.
"I feel very strong on the bike, which is actually feeling better than last year," he said on Monday, speaking to motogp.com in Barcelona where he announced a collaboration with Porsche and was presented with a road car for personal use. "On the corners we are gaining two or three tenths per laps, which I wouldn't say is easy to do but we've done it.
"The reality is that it's between four favourites for the World Championship and it looks very equal; we're all on a similar level, so it's going to be a hard season for all of the top riders in the class."
With himself and Pedrosa having topped the timesheets so far this year, the Mallorcan was asked whether Rossi and rookie Márquez will also be able to challenge regularly.
"Well, over the six days at Sepang, Dani and I were the top two riders," Lorenzo concurred. "At the same time, Márquez and Valentino were both really, really close. Having said that, that was just one track so we'll have to see what happens on circuits with different characteristics because every track is a different world.
"At the moment I'm very excited to have signed this new deal with Porsche and now I'm keen to try out the new car and see what it feels like on the streets!"
Lorenzo's pre-season duties continue next week as Yamaha, Repsol Honda and LCR Honda MotoGP travel to Austin's Circuit of the Americas for testing between 12 and 14 March.
Latest news
Thursday, 19 February 2015

Wednesday, 18 February 2015

Tuesday, 17 February 2015

Thursday, 12 February 2015

Wednesday, 11 February 2015

Tuesday, 10 February 2015

Thursday, 22 January 2015

Thursday, 4 December 2014

Thursday, 27 November 2014
Read more »