Magneti Marelli assesses ECU progress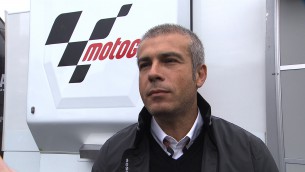 MotoGP™ Director of Technology Corrado Cecchinelli caught up with motogp.com to give his view on the Magneti Marelli ECU at the Le Mans race, ahead of which the first software upgrade was introduced at the Jerez post-race test. Teams running the software include NGM Mobile Forward Racing, Came IodaRacing Project and Avintia Blusens, as well as the in-house PBM chassis (not the PBM ART machine).
Cecchinelli commented: "We are very pleased with the results so far. The system was very good out of the box as Magneti Marelli delivered it, but now we are starting to improve it.
"We did an important test after Jerez, and the results were satisfying. We are using the new software here, which includes a lot of small things. The main things are something that helps wheelie control and on the exit of corners. And all of the riders are happy, so all of them are using it now."
Speaking about the challenges Marelli faced coming into the championship he added: "The one thing nobody sees, is making the ECU work for all the machines. That's something that nobody really understands, but it's really a lot of work. The big challenge is to match all our customers' requirements, which means asking all the teams what they need, and what they would like to have, and try to bring it on track as soon as possible."
With regards to future improvements throughout the season, Cecchinelli spoke of the importance of the appropriate timing for upgrades: "We plan to introduce…let's say…'not so small steps' in the after-race tests, because we do not want to introduce them during a race weekend where it could upset a team's work. So the plan is more or less to introduce something at any after-race test."
Magneti Marelli will provide the hardware for the entire MotoGP™ grid from 2014, with teams being able to run their own software – with a 20-litre fuel limit – or that of Marelli with a 24-litre fuel limit. Cecchinelli, when prompted about the competitiveness of the package said: "I think it's the best you can have…I think it will become the best we can have, for a common-purpose software of course. You will never have the same tailor-made software you can have if you work on just one machine.
"We are [confident ahead of 2014]! We see where we are now, and because I trust the people in the project. But as I told you, it will always be a general-purpose software - so it will be, in my opinion, much better than what the independent teams could have by themselves, but not at the level of the top factories."
Photos:
Latest news
Thursday, 19 February 2015

Wednesday, 18 February 2015

Tuesday, 17 February 2015

Thursday, 12 February 2015

Wednesday, 11 February 2015

Tuesday, 10 February 2015

Thursday, 22 January 2015

Thursday, 4 December 2014
Read more »