Marquez's second chance to clinch the title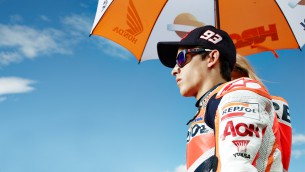 Marc Marquez did not pick up the MotoGP™ title when it was first possible, dramatically disqualified from the Australian Grand Prix for failing to make a mandatory bike change within the permitted window. Moving straight on to Japan, the 20-year-old Spaniard has another chance of achieving the dream of a lifetime.
Following Jorge Lorenzo's victory in Australia, Marquez now has an 18-point lead at the head of the World Championship classification. The Repsol Honda Team rider needs to increase his lead by at least eight points to clinch the title at Motegi this weekend.
Marquez will become World Champion in Japan under the following circumstances:
- Marquez wins with Lorenzo third or lower
- Marquez finishes second with Lorenzo fifth or lower
- Marquez finishes third with Lorenzo eighth or lower
- Marquez finishes fourth, Lorenzo finishes 11th or lower and Pedrosa does not win
- Marquez finishes fifth, Lorenzo finishes 13th or lower and Pedrosa does not win
- Marquez finishes sixth, Lorenzo 14th or lower and Pedrosa third or lower
- Marquez finishes seventh, Lorenzo 15th or lower and Pedrosa third or lower
- Marquez finishes eighth with Lorenzo failing to score and Pedrosa third or lower