Martin Bauer prepared for history-making debut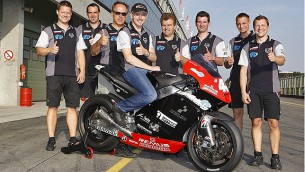 This weekend's bwin Grand Prix České republiky will see Martin Bauer making his debut in MotoGP™ as a wildcard entrant. In doing so, his Remus Racing Team – which tested at Brno two weeks ago – will become the first ever Austrian-entered outfit to compete in the premier class of the World Championship.
37-year-old Bauer will become the first Austrian to compete in the premier class for almost two decades, after Andreas Meklau who rode a ROC Yamaha in 1993.
Let us start with the test. How did it feel to share the circuit and follow in the wheel tracks of Valentino Rossi and Jorge Lorenzo (Yamaha Factory Racing)?
It was a great opportunity for me to see the differences between myself and those guys. It gives you the possibility to find the points of the circuit where you have to find a lot of time and also where you are already strong. It helped us a lot to find our way because nobody has a lot of experience with this type of bike. A CRT bike gives you lot of possibilities to change everything with the setup and we are still learning.
You will be racing a Suter-BMW; to what degree are you able to explore more into the stronger and weaker points of the package?
It's not easy to find the strong and weak points because I don't have a lot of possibilities to compare it with others – after the weekend I'll have more! The important point is to find mechanical grip and bring the power out on the track - we are working still on that. I think the chassis has a good balance; the front is really good and there is a lot of front grip to go very fast in the corners, although we are struggling a bit with mid-corner rear grip and are also still working on the suspension. It is always difficult to know if things come down to suspension or chassis.
The race is coming up this weekend – how does it feel to be entering a MotoGP™ race as a wildcard and as the first ever Austrian-entered team?
For sure, it is an honour to start for Austria because it has been a long time since the last Austrian guy was on the grid. It is a big deal and it gives us a bit more pressure to go well in the race!
What does racing in MotoGP™ mean to you, personally?
The reason I started this project was to work with these bikes. I have a lot of experience with these bikes, so it was very important to have the possibility of working with them. It all came about from our testing times and we saw we were fast enough, so we decided to go for it. Dorna and IRTA gave us the possibility, but it wasn't always clear to me that we would have a start in MotoGP; so for me the point was to work with such a bike. In Superbikes you have stiffer regulations, not like with the CRTs when you have a lot of possibilities to change everything.
Do you have any specific targets, in terms of qualifying and the race itself?
I do have a goal for myself. I want to do a 1'59 lap time, getting under two minutes. If I can do that, I think we can consider it a good weekend. I don't think much faster is possible with the bike just yet. I do think we can find another second, when we have more information and experience, but at the moment if I can do a 1'59 I will be very happy. Above all, it's important to be competitive with the other CRT bikes. The main goal for us as a team is to beat some of them and to at least be at the same speed as the slower CRTs. The big problem at the moment is that we don't have enough information. We are starting from zero, so the most important thing is time - and there won't be enough of it after only two test sessions so far. Even our suspension supplier WP is completely new in MotoGP, so they don't have enough experience yet.
Remus Racing Team's Martin Bauer was speaking exclusively with motogp.com
Latest news
Thursday, 22 January 2015

Thursday, 4 December 2014

Thursday, 27 November 2014

Tuesday, 25 November 2014

Wednesday, 19 November 2014

Tuesday, 18 November 2014
Read more »