Martin, Syahrin, Fores and Habib to start from pole positions for CEV Repsol in Catalonia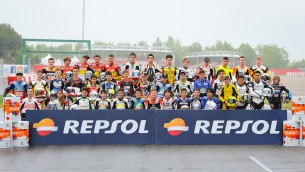 Finally engines have started in the opening round of the CEV Repsol 2013 with the official qualifying rounds of the four categories of the season. It has been a long day, with two groups in Moto3™ given the large number of riders (54), and pretty tough for the riders who have had to ride under constant rain in almost every session, especially in the morning.
After his return from the World Championship, Adrián Martín (SPA-KTM) in Moto3™ earned the first pole of the season, followed by Wayne Rayne (GBR-KRP). Closing the first row will be Luca Amato (GER-FTR), who stopped the clock at 2:13.197 after riding very conservatively despite his extensive experience in the Championship. The results of the official qualifying sessions of Moto3 have settled positions on the grid for the two Moto3 races that will take place tomorrow in the opening round of the CEV Repsol.

In Moto2™, the runner-up privateer rider in the 2012 Moto2, Syahrin (MAL-Kalex), was the fastest in both sessions, setting a best time of 2:06.969 which earned him pole position. Almost a second behind was Mariñelarena (SPA-Suter), and filling the last slot on the front row was one of the favorites, Dani Rivas (SPA-Kalex), enlisted this year in TSR Motorsports. The best rider of Superstock 600 was Alejandro Esteban (SPA-Kawasaki) who must compete tomorrow to be the first ever to climb onto the podium of brand new Spanish Superstock 600 Cup.

In Stock Extreme, Xavi Forés (SPA-Ducati) was superb and seems to have found a perfect counterpart in the Italian constructor, stopping the clock at 2:02.065. But it wasn't made easy for him by former World Championship rider Iván Silva (SPA), who returns to the CEV at the controls of the BMW that gave Forés such good results last season. In third place, trailing by 1.906 seconds, was Carmelo Morales (SPA-Kawasaki) who is recovering from a hand injury. Andrei Martsevich (RUS-Kawasaki) has been the best privateer.

The seventh edition of the Kawasaki Z Cup has begun in Montmeló with a parity that promises a fantastic show in the race tomorrow. Oliver Habib grabbed the best time from Francisco Valera and Alexander Mateos , with the group of three riders separated by just over a second.
Latest news
Thursday, 23 October 2014

Wednesday, 22 October 2014

Saturday, 18 October 2014

Thursday, 16 October 2014

Wednesday, 15 October 2014

Saturday, 11 October 2014
Read more »
Thursday, 23 October 2014

Wednesday, 22 October 2014

Saturday, 18 October 2014

Thursday, 16 October 2014

Saturday, 11 October 2014
Read more »