Mixed feelings for Crutchlow and Smith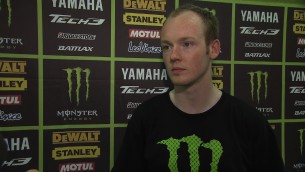 Tuesday
, 26 February 2013
It was Cal Crutchlow who led the way for Monster Yamaha Tech 3, finishing sixth as MotoGP™ testing continued in Malaysia on Tuesday. However it was new teammate Bradley Smith who was most pleased, having continued to progress along the learning curve en route to a top ten placing.
"I wouldn't really call it testing because we haven't really got much to test, but I'm happy," Crutchlow said in a motogp.com video interview. "We're just going through the motions, but it's difficult. The track conditions are really bad, so we've seen a few people crash today. Having said that, you learn on every lap with a MotoGP bike so it's all experience."
Smith will make his race debut in the premier class when 2013 season begins in Qatar. Today, he suffered a small incident as trying conditions tested the field.
"It was actually a really good day," the 22-year-old reported. "The different track conditions made a new learning experience, so it was of benefit to me. Unfortunately I had a little crash towards the middle of the day, just losing the front in Turn 7 – it was my mistake, still being a rookie and trying to understand where the limit is with the tyres and the bike, at that point I just didn't know and went into the corner too fast."
Testing continues from 10am local time (3am CET) on Wednesday.
Latest news
Thursday, 22 January 2015

Thursday, 4 December 2014

Thursday, 27 November 2014

Tuesday, 25 November 2014

Wednesday, 19 November 2014

Tuesday, 18 November 2014
Read more »