Mixed emotions in Yamaha Factory garage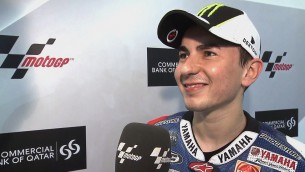 Jorge Lorenzo made history on Saturday night, becoming the first pole-sitter under the new look MotoGP™ Qualifying format. In the process, the world champion maintains his 100% front row starting record in Qatar. Slightly further down the grid, returning teammate Valentino Rossi had less reasons to celebrate.
Lorenzo's seventh career pole position at the Losail International Circuit will see him lining up alongside Britain's Cal Crutchlow and Spanish compatriot Dani Pedrosa.
"It's great to finish in pole position, especially knowing Cal was extremely fast over one lap," the Yamaha Factory Racing riders told motogp.com. "When he did a 54.9, I didn't think it would be possible to beat it, but I put in everything I could and did a very good lap. So we're in pole position and have a good advantage and pace for tomorrow. I hope to make a good start, just focusing on our own pace."
Discussing the new Qualifying format, under which only 15 minutes are on offer to seal a position between pole and 12th in the Q2 phase, Lorenzo continued:
"It's very different to last year and I think more fun for the fans to watch. From the point of view of the riders, I feel more nervous and with more pressure on me because you know you have only four attempts for your last lap - and not 15 like last year! So it's more important to go quickly and not make a mistake."
Lorenzo now hopes history repeats itself on Sunday, as 12 months ago he celebrated victory from pole position at Losail. Behind, Rossi missed out on the second row.
"Qualifying was not fantastic for us," the Italian began. "Our performance in free practice was better than this, so we'll wait for tomorrow. Unfortunately in qualifying, on the second tyre - with which I could have improved - I was stuck in traffic so could not improve my lap time and lost some positions.
"For sure, tomorrow becomes more difficult to start from further back, but we have good pace so we can be quite competitive."
Rossi has won the event for Yamaha on three occasions in the past: 2005, 2006 and 2010.
Latest news
Thursday, 18 September 2014

Wednesday, 17 September 2014

Tuesday, 16 September 2014

Monday, 15 September 2014

Sunday, 14 September 2014

Saturday, 13 September 2014

Wednesday, 10 September 2014

Thursday, 4 September 2014
Read more »
Thursday, 18 September 2014

Wednesday, 17 September 2014

Tuesday, 16 September 2014

Monday, 15 September 2014

Sunday, 14 September 2014

Friday, 12 September 2014

Wednesday, 10 September 2014

Tuesday, 9 September 2014

Thursday, 4 September 2014

Tuesday, 2 September 2014
Read more »