ExternPro looking after engines from MotorLand
Moto2™ is powered by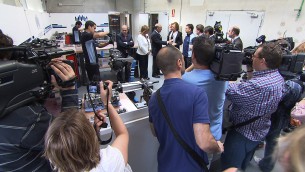 ExternPro, the Spanish company responsible for maintaining the Honda engines used in the Moto2™ class, is now fully up and running from its base at the TechnoPark of MotorLand Aragon. Eight employees are working full-time for the firm, which has invested more than three million euros in the project.
On Wednesday, invited guests – including Dorna Sports CEO Carmelo Ezpeleta – visited the ExternPro base on the outskirts of Alcañiz. The initial agreement between Dorna and ExternPro – which takes over from Swiss company Geo Technology – is for three years. The company's mission is to receive standard specification engines from Honda and then to increase their performance.
During the season, the engines – used by each and every rider in the intermediate class – will be disassembled and restored by ExternPro, which will also be responsible for renewing components. To ensure that all parameters are correct, the powerplants will be tested on what is one of the most advanced dynamos in Europe.
ExternPro Technical Director Trevor Morris – previously Crew Chief to riders such as Niall Mackenzie, Nicky Hayden and Mika Kallio – has been involved in the world of MotoGP™ for 32 years and is overseeing the product. In order to aid the teams further, two ExternPro technicians are travelling to each race event this season.