Catalunya hopeful of welcoming home winner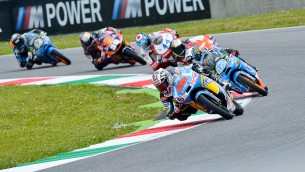 Based on the Moto3™ season so far this year, the chances are high of a home rider clinching race victory in the Gran Premi Aperol de Catalunya. All equipped with KTM machinery, a trio of Spaniards head the riders' standings as Maverick Viñales leads Luis Salom and Alex Rins to the sixth event of the season in Barcelona.
Fresh from the post-race test at Mugello, Team Calvo's Viñales enjoys a grand total of 106 points but lies only four ahead of Salom on the leading Red Bull KTM Ajo bike. Estrella Galicia 0,0's Rins, from Barcelona itself, has amassed 81 points thus far but this leaves him 25 – the exact equivalent of one race win – behind the leader.
'Best of the rest' is Mapfre Aspar Team Moto3's Jonas Folger of Germany on a Kalex KTM, with Rins' teammate Alex Marquez rounding out the top five. Brad Binder, Miguel Oliveira and Alexis Masbou can perhaps take encouragement from the fact that – riding respective Suter Honda, Mahindra and FTR Honda machines – they are the only three riders in the top ten not to be associated in any way with KTM, which has been the class of the field between the Qatari and Italian Grands Prix.
A pair of wildcards will be joining the fray at the Circuit de Catalunya, as Andrea Migno rides for GTM Racing and Kevin Hanus with Thomas Sabo GP Team Honda. Forecasters are predicting ideal weather, although conditions in the area have been more than unpredictable over recent weeks.
Latest news
Friday, 19 September 2014

Thursday, 18 September 2014

Wednesday, 17 September 2014

Tuesday, 16 September 2014

Monday, 15 September 2014

Sunday, 14 September 2014

Saturday, 13 September 2014

Wednesday, 10 September 2014

Thursday, 4 September 2014
Read more »
Friday, 19 September 2014

Wednesday, 17 September 2014

Tuesday, 16 September 2014

Monday, 15 September 2014

Sunday, 14 September 2014

Friday, 12 September 2014

Wednesday, 10 September 2014

Tuesday, 9 September 2014
Read more »