The multi-rider battle heads to Austin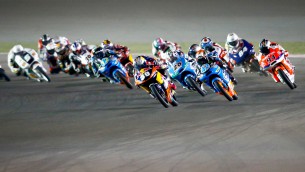 The first Moto3™ race of 2013 proved to be a thriller. What they may lack in experience they made up for in excitement, as a five-rider group battled for the lead at Losail. Spain's Luis Salom, judging his race to perfection, came out on top; he now has a lead to defend as the sport travels to Austin, Texas for the very first time.
No less than four upcoming stars led the first Grand Prix of the year. Red Bull KTM Ajo's Salom may have shot ahead in the closing stages, but had been forced to deal with mighty strong challenges from Estrella Galicia 0,0 pairing Álex Rins and Álex Márquez as well as pre-season favourite Maverick Viñales of Team Calvo, whose challenge has been hindered by a pre-season testing crash and its subsequent pain. Mapfre Aspar Team Moto3's Jonas Folger also strives for a podium finish, which would be his first of the year after a solid ride to fifth at Losail, while Mahindra Racing duo Miguel Oliveira and Efrén Vázquez look to continue their positive start.
Honda-powered machines struggled at the fast and flowing Qatar track and will be hoping that the varied nature of COTA will work more in their favour, with Ambrogio Racing's Danny Webb and Brad Binder currently the favourites to shine on their Suter-Honda machines. Paddock TT Motion Events Newbie Philipp Öttl did well on his Moto3™ debut and will be looking for much of the same, as will other rookies such as Team Calvo's Ana Carrasco and CIP Moto3's Juanfran Guevara.
As neither Moto3™ nor sister series Moto2™ race at Laguna Seca, Circuit of the Americas confirms that both categories can now enjoy two Grands Prix in the United States. The second will be at the Indianapolis Motor Speedway in mid-August.
Opening practice for the 2013 Red Bull Grand Prix of the Americas begins on Friday from 9am local time (GMT -5), with Moto3™ launching the track action.