MotoGP™ Insight: New Qualifying for 2013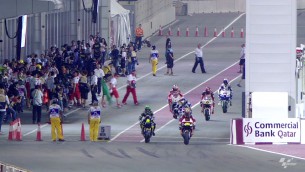 The 2013 MotoGP™ season brings with it a selection of novelties and uncertainties, whether in the form of new riders or the brand-new Circuit of the Americas in Texas. For both rookies to the grid and seasoned campaigners, the new-look qualifying format will be an added challenge on every one of the 18 race weekends.
Last year and in previous seasons, those in the MotoGP™ class were presented with one hour in which to post their best lap time and determine grid position. That hour has now been split into an added 30 minutes of practice prior to qualifying, which itself is divided into two phases of just 15 minutes apiece.
The new system works like this:
- Pole position will be decided as the fastest riders go head-to-head across 15 minutes in the Q2 session; ten of the riders will have earned their Q2 placings thanks to their best times from any of the first three practice sessions
- Prior to Q2, Q1 will be staged – also lasting for 15 minutes. Those who finished outside the top ten across the first three practice sessions will compete for grid positions 13 and downwards. The fastest two riders in Q1 will be put through to Q2, where they will have a chance to fight for any position from pole to 12th on the grid
The new format is not only expected to intensify the drama for fans and media alike, but is also set to increase safety as Mike Webb explains.
"It's separated qualifying, so that the fastest group runs together and the slowest group runs together," the Race Director begins. "It's one thing for the show and the other really big reason is for the safety of the riders; each rider group will get a clear race track and be better able to do their best lap time."
Although the opening trio of practice sessions now have a significant bearing on qualifying, unlike in previous seasons, the teams have been provided with the extra, half-hour fourth practice in order to fine-tune their bikes.
"We'll use the first three practices to get the right setups and then probably use the last free practice to do a long run, just to check the race situation," adds Ramón Forcada, Crew Chief to world champion Jorge Lorenzo. "It's not exactly the race distance – but half an hour should be enough – and then we'll prepare for the time attack!"
Splitting up qualifying will also add another benefit for the grid's smaller teams, who will be able to enjoy more television time which is a plus point for their sponsors.
Latest news
Saturday, 13 December 2014

Wednesday, 10 December 2014
Read more »
Thursday, 4 December 2014

Thursday, 27 November 2014

Tuesday, 25 November 2014

Wednesday, 19 November 2014

Tuesday, 18 November 2014
Read more »