MotoGP™ turns to football at FC Barcelona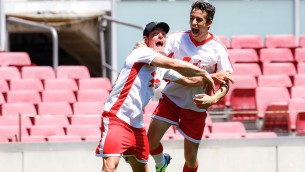 The iconic Camp Nou football stadium, home of FC Barcelona, was the venue on Thursday morning as a selection of MotoGP™ stars began their first battle of the weekend. A team of premier class players went up against a combined line-up of Moto2™ and Moto3™, with the top tier eventually coming out on top.
Amid glorious June conditions in the heart of the Catalan capital, the match consisted of two 25-minute halves and perhaps served as ideal training ahead of this weekend's sixth round of the season at the Circuit de Catalunya.
Drama came two minutes in, as Moto2's Pol Espargaro scored in delightful fashion, only for Andrea Dovizioso to equalise for MotoGP just minutes later. The top class would soon take the lead thanks to Randy de Puniet, only for Sandro Cortese – captain for Moto2/Moto3 – to up the score to 2-2.
Cheekily electing to convert his role of coach into that of player, Cal Crutchlow dramatically stormed the pitch as Marc Marquez scored the third goal for MotoGP, just before Stefan Bradl made it 4-2. A late first half comeback for the Moto2/Moto3 squad saw Xavier Simeon up the score to 4-3 before impressing in goal throughout the second half.
Although the second half proved to be goalless, there was much unexpected drama as Moto2/Moto3 looked to suspiciously field a team of more than the usual 11 in a desperate bid to retake the advantage. To the amusement of the gathered media, this culminated in a somewhat questionable tackle between Pol Espargaro and brother Aleix.
Latest news
Thursday, 30 October 2014

Wednesday, 29 October 2014

Saturday, 25 October 2014

Wednesday, 22 October 2014
Read more »
Wednesday, 29 October 2014

Saturday, 25 October 2014

Thursday, 23 October 2014

Wednesday, 22 October 2014

Saturday, 18 October 2014
Read more »