Márquez and Bradl on MotoGP™ and football on German talk show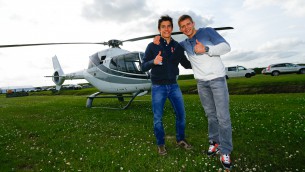 Following last weekend's exciting Iveco TT Assen race, Repsol Honda Team's Marc Marquez and LCR Honda MotoGP's Stefan Bradl were taken by helicopter to German television ZDF and its "Sportstudio" program to discuss the season so far as well as their communal interest in football.
Bradl, who is disputing his second season in MotoGP™, and started his first-ever race from the front row in Assen, said he expected more from the race which he ended in sixth: "To be honest, yes. It was obviously a good starting point for me, so I had hoped to finish a bit further ahead."
MotoGP ™ newcomer Márquez has only recorded one DNF in seven appearances, but has also finished on the podium six times. At Assen he finished behind Yamaha Factory Racing's Valentino Rossi and in front of Monster Yamaha Tech 3's Cal Crutchlow, with whom he contested some neck-and-neck racing at the end to finish in second place. Marquez has the chance to become the youngest ever world champion in his first year in the premier-class.
The 20-year-old, however, was rather modest in front of the German audience: "First of all sorry that I do not speak German," he began. "It is definitely a difficult world championship, but at the moment things are going well. My goal is not, however, to be a world champion, but to give my best each race."
As football fans - Márquez of FC Barcelona and Bradl of FC Bayern Munich - the two riders are not only connected by motorcycle racing, but also by name Josep Guardiola, as the former Barca coach has moved to coach Munich this year.
When asked on the show, whether Bayern has brought in the best coach in the world, Bradl said: "We will see. I think it was definitely the right move. Certainly the next few weeks will be an interesting time. "
Marquez wouldn't mind if "Pep" were to return to his old team: "Yes, of course. He brought Barca great success. I'm a big Barca fan. But now he faces a major challenge. He is now the coach of currently the best team in the world. I admire him for his values ​​as a person."
Back to the topic of racing and looking at the current championship standings, Marquez currently occupies third place and Bradl seventh. The Spaniard already mentioned that he wants to give his all in every race, whilst Bradl commented: "I think I'm definitely further away from a race win than he is (Marquez). But I think that I made a good start with the third grid slot at Assen. Unfortunately, it was not enough, and I myself am a bit disappointed. Nevertheless, my season goal is to get onto the podium, because we are not so far away from it."
Latest news
Saturday, 13 December 2014

Wednesday, 10 December 2014
Read more »
Thursday, 4 December 2014

Thursday, 27 November 2014

Tuesday, 25 November 2014

Wednesday, 19 November 2014

Tuesday, 18 November 2014
Read more »