Márquez remains on top as Austin test continues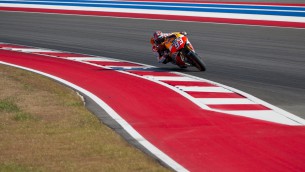 Marc Márquez continued to set the pace on the second day of this week's private test in Texas. The 2013 newcomer again led Repsol Honda Team partner Dani Pedrosa as the seven riders present remained in the same order as on Tuesday. Having completed its programme, Yamaha Factory Racing headed home.
20-year-old Márquez shaved less time off his personal best effort than any of the other six riders, but was still capable of leading Pedrosa by just over one tenth of a second courtesy of his 2'03.853 endeavour. Although the times cannot be taken too seriously, the result is still likely to come as a huge confidence booster for the current Moto2™ title holder.
A second chilly start was converted into another warm and bright afternoon, with track temperatures building steadily despite the surface staying distinctly dusty – and therefore hazardous for all concerned – off the racing line. On-line grip levels improved, with Pedrosa confirming that as he posted his best time in the last knockings. Previously, the championship runner-up of 2012 – who today worked mostly on gearbox settings – had topped five of the six pre-season days in Malaysia.
Yamaha's plan was a more condensed one, with Jorge Lorenzo and Valentino Rossi now leaving the track after two days of circuit adaptation and setup work. The latter – trying out a new asymmetric rear tyre – was over half a second slower than his teammate, whereas the reigning world champion was highly pleased that his team had made the effort to travel to America and attend the Honda-organised gathering. He also attempted a long run of 13 laps in race trim, after which he was especially pleased with his consistency. However both Yamaha riders have admitted concerns that the Repsol bikes are quicker at this point.
On his LCR Honda MotoGP machine, Stefan Bradl split the Yamahas and was just three tenths down on Lorenzo. The German has quickly become a fan of the uphill Turn 1 and also gains valuable extra track time at the venue that is to host Round 2 of the season. Keeping a close eye on proceedings is MotoGP tyre supplier Bridgestone, which after this week's test will be making a decision on which compound to race in Texas.
A pair of CRT runners graced the circuit, with Attack Performance's Blake Young and GPTech's Michael Barnes ending the day just over three tenths of a second apart. Both men will contest the three American races on the championship calendar in 2013.
Circuit of the Americas – Private test – Day 2 results:
1. Marc Márquez – Repsol Honda Team – 54 laps – 2'03.853
2. Dani Pedrosa – Repsol Honda Team – 58 laps – 2'03.976
3. Jorge Lorenzo – Yamaha Factory Racing – 65 laps – 2'04.351
4. Stefan Bradl – LCR Honda MotoGP – 49 laps – 2'04.640
5. Valentino Rossi – Yamaha Factory Racing – 67 laps – 2'04.960
6. Blake Young – Attack Performance – 47 laps – 2'13.641 - (CRT class)
7. Michael Barnes – GPTech – 22 laps – 2'13.993 – (CRT class)
With Yamaha now departing to return to base in Europe, the remaining five riders stay in Texas for a final day of running on Thursday. The last Official MotoGP™ Test will then be staged across three days in Jerez, beginning next Saturday.
Latest news
Saturday, 13 December 2014

Wednesday, 10 December 2014
Read more »
Thursday, 4 December 2014

Thursday, 27 November 2014

Tuesday, 25 November 2014

Wednesday, 19 November 2014

Tuesday, 18 November 2014
Read more »