NGM Yamaha confirmed as team also switches to FTR for Moto2™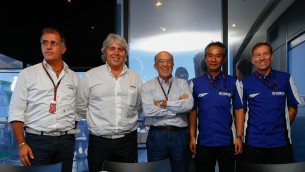 Thursday
, 12 September 2013
NGM Mobile Forward Racing, alongside representatives of Yamaha Factory Racing and other technical partners, today made their 2014 plans of a non-factory FTR-Yamaha official at a press conference ahead of the Misano Grand Prix. It also confirmed it would be switching back to FTR machinery in the Moto2™ class.
NGM owner Giovanni Cuzari, along with Dorna CEO Carmelo Ezpeleta, Yamaha Factory Racing's Masahiko Nakajima, General Manager Motorsport Development, as well as YFR's Managing Director Lin Jarvis were present as the team confirmed its plans to run the "M1 engine-frame-swingarm" package from next year, with technical partner FTR responsible for the majority of remaining chassis parts. The M1 engine will be 2013 spec.
Run with the Magneti Marelli software, the bike will be able to run 24 litres of fuel, compared to the factory effort's 21 litres. Nakajima-san joked he was concerned that the new addition to the 2014 grid could be quicker than the factory M1, though did emphasise he felt it would be a very competitive machine - especially on the straights, where it will be able to run a richer air-fuel mix due to the increased fuel capacity.
He also confirmed that next week, Yamaha would be carrying out an on-track test in Japan with an M1 fitted with the Magneti Marelli software, to test and ensure the package's competitiveness. The Japanese factory would however not be providing full data on the M1, saying that NGM along with FTR will be free to set up and design the bike chassis how they wish.
Nicky Hayden and Aleix Espargaro are still in the frame for the ride, yet Cuzari said negotiations were still ongoing. For Moto2™ it was also confirmed that whilst the rider line-up has not been finalized, they will be switching back to an FTR chassis.
Latest news
Thursday, 19 February 2015

Wednesday, 18 February 2015

Tuesday, 17 February 2015

Thursday, 12 February 2015

Wednesday, 11 February 2015

Tuesday, 10 February 2015

Thursday, 22 January 2015

Thursday, 4 December 2014
Read more »