Pedrosa: "I feel no pressure to prove anything"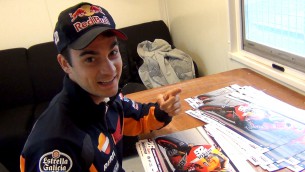 In a lengthy video interview conducted by motogp.com before the Red Bull Grand Prix of the Americas, Dani Pedrosa spoke in depth of his motivation in starting the new MotoGP™ campaign, the pressure of winning a world title in the top class, new Repsol Honda Team arrival Marc Marquez and his interests when away from the race track.
Introduced to the World Championship a decade ago – when he won the 125 title in 2003 – Dani Pedrosa is now approaching his eighth season in the premier class with the same grit and determination to become World Champion, thus sealing his already successful career. Just as it seemed as though the golden opportunity may have arrived, team newcomer Marc Marquez has proceeded to make an instant impression.
In this lengthy and candid exclusive inteview to camera for motogp.com, recorded on Thursday before the race in Texas, the Spaniard shares his thoughts on the latest scenario as well as the start of the campaign in Qatar and media attention around him.
In Australia last year, we saw the world title slip away from you as Jorge Lorenzo claimed a second crown. Now that the new season has begun, can you digest exactly what 2012 meant to you?
The analysis is very easy; I did not get the championship, which was my main objective, but I did accomplish many other objectives that I had. Perhaps they were smaller than the title but they were also important, like the way I learnt to approach weekends, the new way I learnt to work with the team, changing my riding style to avoid injuries to be fit for every race and having good races at circuits that didn't used to suit me. Overall I am pleased with last year because - with the exception of that 'small detail' of the title - I achieved many other objectives that I had set for myself.
Having not won the title, did you put more pressure on yourself over the winter break, changing your preparation at all? Do you feel obliged to win it this year?
No, because I've been asked that question ever since I entered MotoGP – well, maybe not in the first year, but certainly since the second year started. Each season I have been just as enthusiastic to become World Champion as for the previous one, but with each season that passes I have to make more of an effort to be closer to achieving it.
But are you worried that this year you really have to prove you can do it?
I don't have to prove anything to anybody! I have nothing to prove to anybody but myself; to see that the contribution, the work and the effort I have put in for many years pays off…always trying to improve both technically and physically over the winters. It is a different journey and not always a pleasant one – you hit some unpleasant bumps. The pressure to win is always there, but you don't live with a pressure of having to demonstrate to people what you can do. You live your daily life and show to yourself what you're doing and that you enjoy doing it. That's the life I am living: showing myself what I can do, because at the end of the day I know what I am capable of doing.
In Qatar, on the first day of practice you were complaining of problems with the front end of your bike; then the issue moved to the rear end. What exactly was going on that weekend?
We just couldn't find a good setup. The track conditions changed a lot and for some reason we couldn't get the grip our rivals seemed to be finding, or at least what they seemed to be getting. I squeezed every single last thing out of it that I could have, but without that grip I just couldn't gain any more of an advantage.
I guess you are aware that there was much excitement at that time, especially amongst the Spanish press as they witnessed Marc's first performance in MotoGP. There always tends to be comparisons made between teammates. He finished on the podium and you didn't, so did that place an extra pressure on your shoulders?
Marc was great and he had an amazing race. I was sitting behind all the time and watching it, saving energy, but without a doubt he made a great debut. And yes, comparisons are always very obvious in the championship but I know why I was fourth and that's that (laughs). The relationship between us is very good and I'm glad both for him and for the team that he had a good debut. Disappointed? Well, yes, because I obviously couldn't realise the full potential of the bike even though I was giving it my absolute maximum. Technically, though, it wasn't an ideal situation and we all saw the result.
Do you feel ready for the rest of the season? Did you just wipe the slate clean after Qatar?
No, it's not really a case of pressing the reset button because I'm exactly the same as I was in Qatar, which was exactly the same as I was last year and during the pre-season period. In Qatar, conditions just weren't right for us and that's how it is.
Let's talk a little about you away from the circuit: how you mix your two lives and how you spend your time away from the race track, even though you know that a lot of your free time will always be taken up by travelling…
As you know, I'm a quiet sort of man. My life away from the circuit is very relaxed – I don't like to be in the spotlight. When I am out with friends I just like to be another guy in the group, not talking about what I've been doing. Just another member of the crowd.
Do you have a hobby we're not aware of? What do you enjoy doing when you're not training?
Well, for instance, I like windsurfing. I would also say cycling, although I can't really consider that a hobby because I do it a lot when I'm training! On the other hand I'm a film addict – I love going to the movies or even just watching films at home, with friends. Walking…(pause)…well, if it's a nice day then maybe yes, but walking just for the sake of walking, or walking to the shops, isn't something I'm such a fan of!
At times, during interviews you seem shy - if not quite elusive. This is sometimes interpreted by people as being a bit 'dry' when you've had a bad day, as if you are either over-defending yourself or you're just extremely shy. Would you be able to give us an answer to why that is?
Of course. It's a complicated answer because there is never one reason behind a 'why' (smiles). To begin with: yes, I am a shy guy. But usually you have to explain everything if somebody asks a question – you have to be there to answer it. I don't like to say too much. I like to hold back my secrets as journalists ask questions like, (imitating journalist's voice) 'Which gear were you using there?' These are things that make up my armory, so to speak, so I can't just let everybody know the answers to things which I could use to my advantage! On top of that, we're never alone during interviews - like the ones after the sessions; there is always a crowd of people around, so I'm not really able to have a friendly chat with just one single person. There's loads of people around – some that push you more, some less - so the general pressure is much higher than it would be during a more personal, individual interview.
Looking on to the next race in Jerez…you mentioned before that you don't like being the centre of attention but, when we get there, there will be plenty of fans supporting you. To what extent do you enjoy the Spanish Grand Prix, with regards to the people and the support you get? Is it more difficult because you're unable to disconnect from it all?
That's a good question (laughs)! There is certainly something special in the air, in the atmosphere…it lifts you. You feel a bit like you're floating as the fans are supporting you. It is certainly the place to be. It's your place and you feel that from the first moment you step inside the circuit on the Thursday. The best moment is when the race starts because you know all of the fans want one of the Spanish riders to win the Spanish Grand Prix – they're all cheering for you.
The worst thing is moving around the paddock because it's very complicated – it's always crowded with people who want to see you, have a photo with you or get an autograph. You obviously like that, but sometimes you just can't stop because you need to go for lunch, or to the toilet, or to do an interview which you might already be running late for. Then, if you don't stop to please the fans, they get mad at you because they obviously didn't know you were in a hurry. Then you end up giving yourself a bad image with them when you didn't intend to, so for me that is definitely the worst part of the entire weekend.
Photos:
Latest news
Saturday, 13 December 2014

Wednesday, 10 December 2014
Read more »
Thursday, 4 December 2014

Thursday, 27 November 2014

Tuesday, 25 November 2014

Wednesday, 19 November 2014

Tuesday, 18 November 2014
Read more »