Pedrosa: Racking up the numbers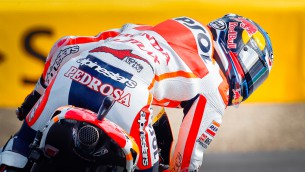 Victory in France saw Dani Pedrosa hit the top of the Riders' Championship for the first time in almost five years. Now in his eighth season of MotoGP™, the Repsol Honda Team rider is looking more threatening than ever as he strives to collect the coveted premier class title for a first time.
It was on 13th July 2008 that Pedrosa lost the championship lead, falling in the German rain and bouncing over the gravel trap. The accident lost him the race, resulted in all sorts of injuries and ruined the championship. It is perhaps ironic that the re-taking of the overall lead finally came in similarly wet conditions at Le Mans.
Sunday's success marked the Spaniard's first premier class win in France, having been affected more often than not by injury over the past handful of seasons; at least he can now boast that he is yet to be operated on since June 2011. In fact, only three venues remain on the calendar at which Pedrosa is yet to claim a win in any of the three categories: Losail, Circuit of the Americas and Silverstone.
Also at Le Mans, Pedrosa claimed his second consecutive race victory and his eighth from the last 12 MotoGP™ events. He has passed the 3,000-point mark; an amount bettered only in the famed careers of Loris Capirossi and Valentino Rossi.
Win number 24 in the top class puts Pedrosa equal with both current title holder Jorge Lorenzo and three-time champion Wayne Rainey, while that trio are just one behind Rainey's great rival and 1993 world champion Kevin Schwantz, who recently questioned the abilities of Pedrosa and his lack of a MotoGP™ title.
Qualifying speed is certainly not in doubt; until Saturday, perhaps, when Pedrosa's result of sixth marked the first time in 16 races that he had failed to start from the front row of the grid. Instead, he came from sixth – the lowest grid position he has ever converted into victory since joining the premier class. En route to his 47th MotoGP™ victory, he picked up his maiden fastest lap of 2013 (and his 36th since climbing to the top class seven years ago), his 115th career podium and his 74th in the uppermost tier, which takes him to five ahead of ex teammate Casey Stoner.
These facts appear to suggest that the only thing Pedrosa is yet to claim is the MotoGP™ world title. With 14 Grands Prix to go, the 2012 runner-up leads the way by six points. Will this be the year?
Latest news
Wednesday, 26 November 2014

Thursday, 20 November 2014

Wednesday, 19 November 2014

Tuesday, 18 November 2014

Thursday, 13 November 2014

Wednesday, 12 November 2014

Tuesday, 11 November 2014

Saturday, 8 November 2014

Thursday, 6 November 2014
Read more »
Tuesday, 25 November 2014

Wednesday, 19 November 2014

Tuesday, 18 November 2014

Thursday, 13 November 2014

Wednesday, 12 November 2014

Tuesday, 11 November 2014
Read more »