Pedrosa to make decision on Sunday morning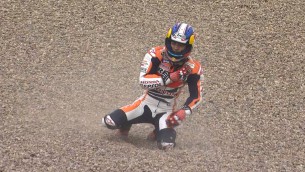 Neither MotoGP™ World Champion Jorge Lorenzo nor championship leader Dani Pedrosa took part in qualifying for the eni Motorrad Grand Prix Deutschland. The Yamaha Factory Racing rider will miss the race, whereas there is still a chance that the Repsol Honda Team man could start it from 12th place on the grid.
Pedrosa injured his left collarbone by crashing in Free Practice 3 on Saturday; the Spaniard lost control on the exit of Turn 1, suffering a hard impact with the tarmac after flying into the air. Lorenzo's accident had come on Friday, bending the plate attached to his already injured left collarbone.
Following initial checks at the circuit, Pedrosa was airlifted to Chemnitz Hospital for closer examination. A further x-ray was carried out as well as a CT scan, which revealed that the 27-year-old Catalan had picked up a 'minor fracture' to the left collarbone. He later returned to the Sachsenring by road, not taking part in qualifying but electing to rest.
"Dani is now relaxing back in his room," Rhys Edwards, Communication & Marketing Manager for Repsol Honda Team, explained to motogp.com.
"He had a CAT scan at hospital just to check there was no further damage, after the initial check in the Medical Centre and the Clinica Mobile here at the Sachsenring. It showed there was a slight crack and fracture in the collarbone, but not a break, so that is a big relief to Dani and all in the team.
"Now it is up to Dani to see how he feels tonight. If he feels able and fit enough, then he will do a medical check at 8:20am on Sunday morning; then if he feels up to it, he will attempt to race, but only he knows whether he will be able to do that."
Should he wish to compete in the race and is positively revaluated by medical staff on Sunday morning, Pedrosa will start from 12th on the grid by virtue of his lap times from combined practice which submitted him to the Q2 shootout.
Latest news
Thursday, 22 January 2015

Wednesday, 21 January 2015

Wednesday, 14 January 2015
Read more »
Thursday, 22 January 2015

Thursday, 4 December 2014

Thursday, 27 November 2014

Tuesday, 25 November 2014

Wednesday, 19 November 2014

Tuesday, 18 November 2014
Read more »