Chasers poised to mount top two attack
Moto2™ is powered by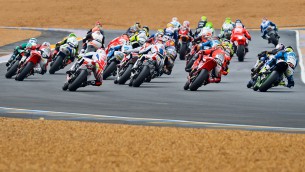 The top two are getting away in the intermediate class of the World Championship. By that one would refer to Scott Redding and Pol Espargaro, who have now scored almost as many points as third, fourth and fifth positions combined. It's time for the chasing pack to prepare an assault on the runaway leaders.
In fairness to Marc VDS Racing Team's Redding, he is the sole runaway leader at this stage. Although Tuenti HP 40's Espargaro – the general pre-season title favourite – has now won the last two races, his earlier inconsistency still leaves the Catalan a sizeable 30 points in arrears of the Englishman. Redding's own run of form has been impressive: seven races, five podium finishes, two victories and still inside the top five even when he has missed out on the rostrum. Steadiness.
So, who is favourite to challenge that top pair? For starters there are Tito Rabat and Nico Terol: the only other two men to have won races so far this year. A mixture of irregularity leaves Espargaro's teammate Rabat third in the standings and 48 points behind the leader, whereas Terol (Mapfre Aspar Team Moto2) is only seventh overall thanks above all to three non-scoring results from the past four races. Sadly, regardless of the cause, inconsistency kills championship challenges.
Of course, as is always the case in any form of motorsport, machinery plays a major role. It is a fact that the current top four in the championship are riding Kalex bikes and it is a lockout for the Marc VDS and Pons outfits, with Redding's Finnish teammate Mika Kallio fourth and trailing Rabat by eight points. Completing the top five is 'best of the rest' Dominique Aegerter, with the Swiss having seized a second career podium finish last time out at Assen. The Technomag carXpert rider is also the leading Suter-equipped runner in the championship and only a point behind Kallio.
A glance at the record books tells us that Moriwaki and Suter are the only winning makes at the Sachsenring since Moto2™ began in 2010, with the latter having celebrated two victories consecutively thanks to Marc Marquez in 2011 and his title campaign of 2012. In that first year, it was champion-to-be Toni Elias who celebrated the win; a positive result would serve him well on this occasion, not least after the Blusens Avintia man crashed on the Warm-Up lap back at Assen.
In terms of the championship battle this weekend, whether he is able to challenge for the win or not, there is just one objective on the mind of Pol Espargaro: beat Redding. After all, there are ten races left in the season and a maximum of 125 points still up for grabs. On the other hand, there is almost a quarter of that amount currently between the two top men, stressing there is no more room for error as the halfway point of the championship draws ever closer.
There will be two wildcards riders on this weekend's grid. Britain's Gino Rea is once again in action with his privately-entered Gino Rea Race Team, while Alex Mariñelarena returns with Targobank Motorsport. There is a temporary change at Argiñano & Gines Racing; as Alberto Moncayo has been injured in a training accident, he will be substituted for by Spanish compatriot Roman Ramos.
Sunday's Moto2™ eni Motorrad Grand Prix Deutschland starts at 12:20pm local time (GMT +2).
Latest news
Friday, 19 September 2014

Thursday, 18 September 2014

Wednesday, 17 September 2014

Tuesday, 16 September 2014

Monday, 15 September 2014

Sunday, 14 September 2014

Saturday, 13 September 2014

Wednesday, 10 September 2014

Thursday, 4 September 2014
Read more »
Friday, 19 September 2014

Wednesday, 17 September 2014

Tuesday, 16 September 2014

Monday, 15 September 2014

Sunday, 14 September 2014

Friday, 12 September 2014

Wednesday, 10 September 2014

Tuesday, 9 September 2014
Read more »