Mugello: What a difference a year makes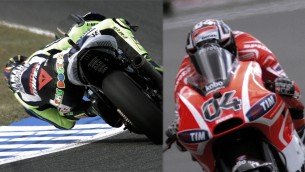 Four races into the 2013 MotoGP™ season, Dani Pedrosa leads the World Championship by six points from rookie teammate Marc Marquez, with reigning title holder Jorge Lorenzo 17 points behind the leader. At the same point last year, the Yamaha Factory Racing rider held an eight-point lead. How times change.
Things never stay the same for long in motor racing. It is true that the first four races may not have been the same as those in 2012 (with Portugal's Estoril track having been replaced by the United States' Circuit of the Americas), although it is without a doubt that Repsol Honda Team has started off on a stronger footing.
In 2012, Lorenzo won two of the first quartet of Grands Prix by triumphing in Rounds 1 and 4. This sandwiched a pair of victories for outgoing champion Casey Stoner, whereas the best Pedrosa had to offer was a single second place, a pair of thirds and one fourth. This time, the Sabadell man had his fourth position in the opening round before going on to finish second in Texas before taking back-to-back wins.
Marquez would appear to be unstoppable. The current Moto2™ champion is yet to finish off the rostrum in what is the most successful debutant appearance ever. He could be forgiven for not yet knowing the protocol, should he finish outside the top three at Mugello this weekend. That said, he did finish 'only' fifth there last year, but had already triumphed 12 months earlier.
Arguably, Italy's race must be the one at which Yamaha steps up to the challenge. Lorenzo heads to scenic Tuscany with only 73% of the points he held this time last year, whereas Pedrosa has improved by 22% in comparison with four races into 2012. Bearing in mind #26 claimed six of the final eight victories last season and lost a seventh through no fault of his own, a selection of insiders believe the Honda should be just as potent - if not more so - at the same venues this season.
Lorenzo's position can work both to his advantage and against him. Based on the form book so far this campaign, the two-time premier class champion is the quicker Yamaha factory rider and is up against a pair of Hondas. This clearly worked against him in Jerez, battling and eventually losing out to Marquez as Pedrosa sailed off into the distance for his first win of the year. On the other hand, come the end of the year, Honda could regret its riders taking points off each other whereas Lorenzo could be assisted by Valentino Rossi should the Italian find himself too far adrift.
For the above reason, it is paramount from Rossi's point of view that the nine-time champion and seven-time premier class winner ups his own game in order to stay on par with Lorenzo and attack the Honda duo together. What better place to do that than at home in Italy? He is yet to win or even appear on the podium at Mugello since 2008, not helped by his leg-breaking accident three years ago. One must not forget Monster Yamaha Tech 3's Cal Crutchlow, though, who despite a leg fracture of his own fought to a career-best result of second last time out at Le Mans.
Last year's Gran Premio d'Italia TIM served as the ninth race in the season, as opposed to its 2013 position as Round 5. You can be sure, however, that such a fact would not discourage Jorge Lorenzo from repeating his victory as MotoGP™ returns to Mugello.
Photos:
Latest news
Thursday, 22 January 2015

Thursday, 4 December 2014

Thursday, 27 November 2014

Tuesday, 25 November 2014

Wednesday, 19 November 2014

Tuesday, 18 November 2014
Read more »