Race Direction explains Aragón decision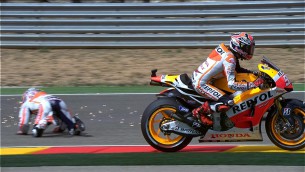 Thursday
, 10 October 2013
After Thursday's hearing at the Sepang International Circuit, relating to the Aragón Grand Prix collision between Repsol Honda Team's Marc Marquez and Dani Pedrosa, MotoGP™ Race Director Mike Webb explains the decisions taken by Race Direction as well as emphasising how all manufacturers are working together to avoid repeats of such happenings.
Following Thursday's hearing at Sepang, please explain which decisions have been taken in relation to Marc Marquez and Repsol Honda Team following the touch between Marquez and Dani Pedrosa in the Aragón Grand Prix.
I have to stress that Dani was in the meeting just in case he wanted to offer any opinion - he was in no trouble at all. The hearing was on two subjects: one was the contact between Marc and Dani during the race and the second, related but separate, was the crash of Dani which Honda has explained to us was caused by a fault in the traction control system. So, two separate things. Our decisions on those two separate items: for Marc Marquez, we have added one penalty point to his total for the 2013 season due to irresponsible riding. On the second subject, which is the technical subject of the failure of the traction control on Dani's bike, we have deducted 25 points from the manufacturers' championship for Honda that they gained due to winning that race. In both cases, I want to stress that this is Race Direction sending out messages: one is about the standard of riding and the care our riders take when they are riding close to others, while the second was a message to the manufactures about the standard of safety and the inbuilt failsafes for the systems on the bikes, to try and increase the safety.
Regarding the contact between Marquez and Pedrosa, some riders have been quite vocal about Marc's riding so far this year. After today's decision, will he and other riders now be more careful when it comes to issues of contact with opponents?
Yes, that is our intention. We are sending a message to Marc, very clearly, that we understand that he is an extremely talented rider but he is also intelligent enough to understand that there has to be some margin for error – especially, as we have seen a number of times this year, under braking when the rider behind has the responsibility of not getting too close to the rider in front who is riding his own lines. Finally, we have had an incident in which Marc has been very close to another rider – close enough to make contact – when coming from behind under braking. For us, that is a signal (even though the contact itself was quite minor) to make a formal warning by way of a penalty point to Marc to say he has to take more care.
Looking at the Honda issue and the failure of the traction control system, could this lead to changes in the Technical Regulations in order to ensure that all manufacturers and CRT outfits can follow such solutions in order to avoid any scenarios in which damage to rear wheel sensors leads to traction control issues?
It is a subject we are discussing in the context of safety. Right now, I am not going to say that there are going to be rule changes or things like that. As a working group, we are investigating it to try and increase safety. The thing is that these are very complex systems and every manufacturer has their own way of doing it. It is difficult to write an overall regulation that would be effective and sensible in the light of ongoing developments. We are discussing the issue and trying to work together with the manufactures, with recommendations and basically trying to work together to raise the safety. I have to say that all of the manufacturers, and in this particular case HRC, are very aware of the issue and they are the first to say that they want to improve it. In fact, they have already improved their bike, so it is not so much a question of having to make regulations to force them to do something; it is more a cooperative effort to make sure that all of us can work together to make the bikes safer.
Latest news
Monday, 22 September 2014

Friday, 19 September 2014

Thursday, 18 September 2014

Wednesday, 17 September 2014

Tuesday, 16 September 2014

Monday, 15 September 2014

Sunday, 14 September 2014

Saturday, 13 September 2014

Wednesday, 10 September 2014
Read more »
Monday, 22 September 2014

Friday, 19 September 2014

Wednesday, 17 September 2014

Tuesday, 16 September 2014

Monday, 15 September 2014

Sunday, 14 September 2014

Friday, 12 September 2014

Wednesday, 10 September 2014

Tuesday, 9 September 2014
Read more »