Lack of grip remains the issue for Bautista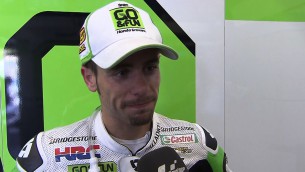 Alvaro Bautista put in a strong showing to come home sixth in the Gran Premio bwin de España, overtaking Monster Yamaha Tech 3's Cal Crutchlow but eventually dropping back behind the Englishman. The Spaniard has placed emphasis on rear end grip as the area in which GO&FUN Honda Gresini must improve.
When speaking with motogp.com in the aftermath of the race, Bautista explained that the 27 laps had been a mere extension of the previous weekend sessions in Jerez.
"The race was practically the same as practice," he said. "I still had some problems, with not much rear grip. I didn't make a good start and lost some positions, but when I recovered I tried to catch up with the front group. I made a big effort and did get to catch them; I overtook Cal but towards the end the tyres were so worn and the bike started to move around a lot.
"Cal got a better rhythm than me. I tried to stay with him but I was sliding in every corner. Sixth place is not so bad, I've got some points but we have to work on for improving the rear setting because we have had a lot of problems this weekend. So our main goal is to improve the rear problems."
Bautista is a former race winner at the Circuito de Jerez, having won in the 125 class en route to the championship title in 2006.
Latest news
Saturday, 18 October 2014

Thursday, 16 October 2014

Wednesday, 15 October 2014

Saturday, 11 October 2014
Read more »
Saturday, 18 October 2014

Thursday, 16 October 2014

Saturday, 11 October 2014
Read more »