Repsol offsets its carbon footprint in MotoGP™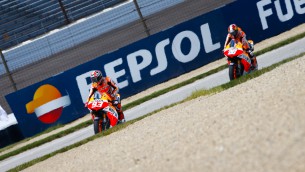 Wednesday
, 25 September 2013
Pending official verification, Repsol has offset its emissions relating to the 2012 MotoGP™ World Championship, achieving its target of balancing global emissions to zero and thus contributing to greater environmental stability. This year, Repsol has pledged to do the same again.
In measuring the carbon footprint of the 2012 season, all greenhouse gases were taken into account relating to both the Repsol Honda Team machines of Dani Pedrosa and Casey Stoner in MotoGP™ and the Repsol-sponsored Moto2™ bike of Marc Marquez. On top of this, the following factors were also taken into account: transportation of personnel and freight between events, hotel stays and electrical consumption at the circuits (in the garage, hospitality units and VIP Village).
The compensation process is carried out with the voluntary purchase of a certain quantity of carbon credits from a project in a developing country. Repsol has offset its emissions for the 2012 World Championship season with an amount of carbon credits equivalent to that of the project of Brazil. With this incentive, the company has helped to support a ceramic brick factory, thus helping to replace the need of deforestation in order to keep the plant up and running.
All of the data has been verified by the British Standard Institution (BSI) in accordance with international standards. The initiative is part of the company's commitment to contribute to environmental protection with all of its actions in order to ensure the sustainability of its activities.
Latest news
Wednesday, 17 December 2014

Saturday, 13 December 2014

Wednesday, 10 December 2014

Saturday, 6 December 2014

Wednesday, 3 December 2014
Read more »
Thursday, 4 December 2014

Thursday, 27 November 2014

Tuesday, 25 November 2014

Wednesday, 19 November 2014

Tuesday, 18 November 2014
Read more »