Riders for Health MotoGP™ paddock pass auction returns for 2013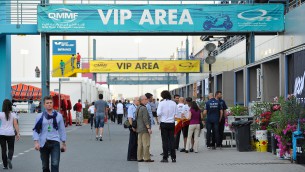 Another exciting MotoGP™ season is just weeks away and to get the Championship off to the best start, Riders for Health and MotoGP are offering fans the chance to bid for premium paddock passes for every race on the calendar in a series of eBay auctions. The auctions will raise money for Riders for Health, the official charity of MotoGP, to support their lifesaving work in Africa.  
With several new additions to the 2013 Championship including new faces, a new circuit and a new qualifying format, which promises to liven things up for the fans, this is a MotoGP season you will not want to miss. Forget watching the race at home on the sofa, the winning bidders and their guests will spend the whole GP weekend in the exclusive MotoGP paddock.
Each race has its own auction so you can bid for your favourite round. The online auction for the first race in Qatar opens on Tuesday 12th March and will last for 10 days. For your chance to be at the heart of the action for the season's opening race, visit Riders for Health's eBay shop at stores.ebay.co.uk/riders-for-health from 12th – 22nd March to place your bid.
These passes aren't on sale anywhere else so bidders can be sure they will have a truly exclusive experience. What's more, all the money raised from the sale of the passes will support Riders for Health's lifesaving work in Africa.
In 2012, the auction of MotoGP paddock passes raised an unbelievable £20,000 helping Riders to mobilise more health workers with motorcycles so that they can reach millions of people across rural Africa with vital health care. Support from MotoGP and its fans helps Riders for Health to save lives.
Please note: the auctions are for paddock passes only and do not include flights or accommodation. These paddock passes allow access to the race circuit and paddock for the whole race weekend, they do not give access to any hospitality suites or grandstands. For more information please email rfh@riders.org
Full list of GPs and the eBay auction start and end dates:
Losail, Qatar 12th March - 22nd March
Austin, USA 26th March - 5th April
Jerez, Spain 9th April - 19th April
Le Mans, France 23rd April - 3rd May
Mugello, Italy 7th May - 17th May
Catalunya, Spain 21st May - 31st May
Assen, Netherlands 4th June - 14th June
Sachsenring, Germany 18th June - 28th June
Laguna Seca, USA 25th June - 5th July
Mazda Raceway, USA 23rdJuly - 2nd August
Brno, Czech Republic 30th July - 9th August
Silverstone, UK 6th August - 16th August
Misano, Italy 20th August - 30th August
Aragon, Spain 3rd September - 13th September
Sepang, Malaysia 17th September - 27th September
Phillip Island, Australia 24th September - 4th October
Motegi, Japan 1st October - 11th October
Valencia, Spain 15th October - 25th October
Latest news
Saturday, 18 October 2014

Thursday, 16 October 2014

Wednesday, 15 October 2014

Saturday, 11 October 2014

Wednesday, 1 October 2014
Read more »
Saturday, 18 October 2014

Thursday, 16 October 2014

Saturday, 11 October 2014

Wednesday, 1 October 2014
Read more »