Marquez handed penalty point after Aragón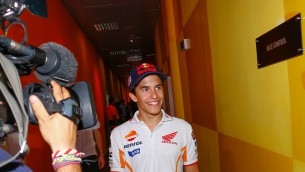 Thursday
, 10 October 2013
MotoGP™ World Championship leader Marc Marquez has been given one penalty point following his Aragón Grand Prix collision with teammate Dani Pedrosa. Furthermore, for its responsibility in Pedrosa's crash, Honda has been stripped of the Constructors' Championship points scored it scored as a result of Marquez's race victory.
Fighting for second place on the sixth lap of the race at MotorLand Aragón, Marquez made slight contact with Pedrosa when he overshot the breaking point at Turn 12. A touch from his left arm broke the rear wheel speed sensor cable on the back of Pedrosa's bike, resulting in a loss of his traction control for the latter which saw the him crashing out of the race.
With Marquez having gone on to claim victory from Yamaha Factory Racing's Jorge Lorenzo, it was confirmed after the Aragón race that the touch would be technically analysed by Race Direction on the Thursday ahead of the Shell Advance Malaysian Motorcycle Grand Prix. At 12 noon local time, both Marquez and Pedrosa plus representatives of Repsol Honda Team gathered with Race Direction at the Sepang International Circuit.
Following a meeting of just over half an hour, it was announced that Marquez had been handed one penalty point (not a championship point) for his part in the Aragón clash, while losing the Constructors' Championship points he scored for the MotorLand Aragón race. This decision takes his total of penalty points to three for the 2013 MotoGP™ season, having previously received two for ignoring yellow flags during Warm-Up for the British Grand Prix at Silverstone.
"Marc has been penalised with one point on his license," acknowledges Livio Suppo, Team Principal of Repsol Honda Team. "That means there is no consequence for this race (in Malaysia). Basically, they said that in this particular case it was more or less okay, but they are taking Marc's whole season into consideration and he has been close to touching the rider in front of him on more than one occasion. The message was basically, 'This time it was okay but realise that you have been doing this quite often'.
"With the other issue, Race Direction thinks that – and this is true, unfortunately – the crash was mainly due to the bike problem because of the broken cable and the backup system taking a bit too much time to kick in. So we have been penalised 25 points in the manufacturers' championship. Now we need to think about it and see whether we have to make an appeal or not. My feeling is that Nakamoto San (Shuhei Nakamoto, Executive Vice President of HRC) will understand the situation."
Detailing the traction control failure on Dani Pedrosa's bike was Takeo Yokoyama, the Technical Director of Repsol Honda Team, who also explained that added measures have been put into place from the Sepang round onwards:
"The problem was with both the hardware and the software. In terms of the hardware, the sensor cable was exposed too much and it was very easy – even with just small contact from others riders – to cut the cable. So we have now added protection to that cable for this race. From the software point of view, we of course do have a backup mode; if something happens with the sensor signal, the bike is supposed to go into the safety mode immediately. However, the strategy was not perfect, so for this race (in Malaysia) we have modified it so that we can detect such failures earlier."
Latest news
Thursday, 27 November 2014

Wednesday, 26 November 2014

Thursday, 20 November 2014

Wednesday, 19 November 2014

Tuesday, 18 November 2014

Thursday, 13 November 2014

Wednesday, 12 November 2014

Tuesday, 11 November 2014

Saturday, 8 November 2014
Read more »
Thursday, 27 November 2014

Tuesday, 25 November 2014

Wednesday, 19 November 2014

Tuesday, 18 November 2014

Thursday, 13 November 2014

Wednesday, 12 November 2014
Read more »