Spies reveals chest pains in Texas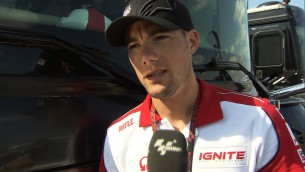 Ben Spies was highly disappointed to have been unable to fight for competitive positions in the Red Bull Grand Prix of the Americas. Still yet to fully recover from his accident in last year's Malaysian Grand Prix, the Ignite Pramac Racing rider has now revealed chest pains on top of that.
Spies' shoulder was hurt at Sepang last year, although it was intense pain of a different sort that hindered him on the run-up to Sunday's race in Austin.
"I would have loved to do a lot better than we did today," he told motogp.com in a video interview, having spent much of his childhood in Texas. "There was basically no choice. This morning we had a little bit of a problem with a nerve in my chest, for some reason. I don't know whether it was over-compensating with my shoulder, but my shoulder has got a lot better from Qatar which is really, really good.
"Two laps from the end of the Warm-Up I had a twinge in my chest and it felt like there was a knife in it. I don't know what happened. We went to the Clinica Mobile; they worked with me a lot and got me ready for the race.
"I tried as hard as I could in the race but it wasn't enough. I wasn't able to last and, with eight laps to go, it was either to come in or salvage whatever points we could – and we tried to do that. I'm disappointed for the fans and for the team who work so hard. Honestly, I worked as hard as I could but it's one of those things you can't just grit and get through…it was painful. But no excuses: I tried as hard as I could and it wasn't good enough today. We need to work harder and get back to 100% because we're definitely not there, physically, right now.
"I'm more disappointed for the friends, the family, the team, Ducati, Pramac, Ignite and everybody. They deserve a lot and, right now, I'm giving 100% but it's not good enough for me or them. I'm unhappy with that."
Ultimately, the former Yamaha rider was able to collect three points for 13th place.
Latest news
Saturday, 13 December 2014

Wednesday, 10 December 2014
Read more »
Thursday, 4 December 2014

Thursday, 27 November 2014

Tuesday, 25 November 2014

Wednesday, 19 November 2014

Tuesday, 18 November 2014
Read more »