CEV Repsol kicks off at the Circuit de Catalunya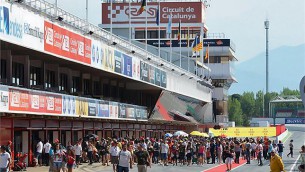 After a winter of preparation and fine-tuning of machines, teams and riders, everything is set in the CEV Repsol for engines to fire up. 142 riders from all over the world will gather this weekend, as the Circuit de Catalunya welcomes the start of the 2013 season championship, with Repsol as the main sponsor supporting its commitment to young riders.
The Moto3™ class has plenty of riders registered: a total of 55 of 14 nationalities. The CEV Repsol has swept away barriers to allow transnational riders to come to Spain, making it easy for riders with international passports to register. Luca Amato (GER, FTR), runner-up in the CEV 2012, has confirmed his attendance. After a hard-fought season last year, he will have the opportunity to move up now that the Spanish Moto3 Champion, Álex Márquez, has headed off to dispute the MotoGP™ World Championship.
Likewise, Ramos (SPA, Ariane) and Noyes (USA, Suter) in Moto2™, runner-up and third place respectively in the CEV 2012, will be seeing their route clear to the top spot on the results table. Their biggest rival to date, Jordi Torres, has passed on the baton after leaving for the World Championship. 35 riders will share the track with others riding Superstock 600 bikes, vying for the Spanish Superstock 600 Cup.
32 riders are registered in Stock Extreme. Current Spanish champion Morales (SPA, Kawasaki) is riding again, along with other tough competitors such as Forés (SPA, Ducati), Barragán (SPA, Suzuki) and Bonastre (SPA, Suzuki). For sure, they will all be doing their best to get onto the podium and fill the space that Kyle Smith has left in the front rows of the grid in his move up to the MotoGP World Championship.
The debut of the Kawasaki Z Cup's Z800 will enable the more amateur riders who wish to take part in a great event to fight for trophies on top-notch tracks. A total of 20 riders will go head to head in Montmeló.
As usual, entrance on Saturday and Sunday is free. Those wishing to download an invitation can do so at the attachments in this newsletter. In addition, the first one hundred CEV Repsol fans at the Accreditation Centre at Barcelona circuit on Sunday can take part in the Pit Lane walk which will take place before the races.
Next Sunday's race schedule is as follows:
11:00 Moto3 (16 laps)
12:00 Stock Extreme (17 laps)
13:00 Moto2 (17 laps)
14:00 Moto3 (16 laps)
15:00 Kawasaki Z Cup (15 laps)
Latest news
Monday, 22 September 2014

Friday, 19 September 2014

Thursday, 18 September 2014

Wednesday, 17 September 2014

Tuesday, 16 September 2014

Monday, 15 September 2014

Sunday, 14 September 2014

Saturday, 13 September 2014

Wednesday, 10 September 2014
Read more »
Monday, 22 September 2014

Friday, 19 September 2014

Wednesday, 17 September 2014

Tuesday, 16 September 2014

Monday, 15 September 2014

Sunday, 14 September 2014

Friday, 12 September 2014

Wednesday, 10 September 2014

Tuesday, 9 September 2014
Read more »