Valentino Rossi joins the FIM Ride Green Team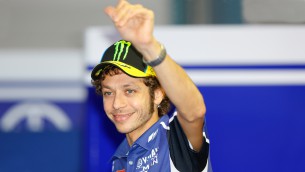 As part of their celebration of World Environment Day, the FIM is proud to announce that Valentino Rossi is joining the FIM Environmental Ambassadors' Team. The project was launched in 2012 when Marc Márquez, Laia Sanz, Takahisha Fujinami, Randy De Puniet and Ken Roczen agreed to take part.
The Ambassadors are at the service of future generations. They have been invited by the FIM to play a major role in the contribution made by our sport to a greener and more sustainable world.
The FIM Environmental Ambassadors are men and women representing different motorcycling disciplines and different cultures and nationalities. They are sportsmen and –women with high standards who have lent their voices to convey the FIM's environmental policy. Most importantly, they will spread inspiration and awareness among their fans, the motorcycling community and the sporting community at large.
Vito Ippolito - Fédération Internationale de Motocyclisme (FIM), President
"In 2012, on World Environment Day, the FIM launched the FIM Environmental Ambassadors programme. The idea is to involve top riders from different disciplines to pass on messages about sustainability and make our public and fans aware of the importance of respecting the environment. The original five Ambassadors were Marc Márquez, Randy de Puniet, Takahisa Fujinami, Laia Sanz and Ken Roczen. We are now happy to welcome Valentino Rossi, a living legend in our sport, as a new member of this team. With the help and involvement of these great riders, we are confident that our environmental messages will be well received by the spectators."
Valentino Rossi: "I am proud, honoured and happy to have been appointed as FIM Environmental Ambassador. Definitely, it is not so easy to spread a "green" message within our sport, but FIM, Yamaha and all the parties involved in this initiative teach us that it is not impossible! As a rider I want to commit to helping our world to make one step forward in terms of sustainability. I will play my role and I will help motorcycle racing to adapt itself to the needs of our environment."
Latest news
Thursday, 20 February 2014

Wednesday, 19 February 2014

Tuesday, 18 February 2014

Thursday, 13 February 2014

Wednesday, 12 February 2014

Tuesday, 11 February 2014
Read more »