Iveco TT Assen: Pre-race press conference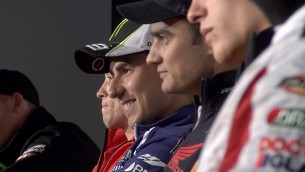 With the Iveco TT Assen race run as usual on a Saturday on its 65th MotoGP™ anniversary, it was the preceding Wednesday that kicked off the event with the pre-race press conference where Repsol Honda Team's championship leader Dani Pedrosa was joined by Yamaha Factory Racing's closest rival Jorge Lorenzo, Repsol teammate Marc Marquez, Ducati Team's Andrea Dovizioso, LCR Honda MotoGP's Stefan Bradl and Monster Yamaha Tech 3's Bradley Smith.
Pedrosa, close second in the last races, is aiming to reverse that trend at the Cathedral: "I have raced here many times. My win here was my first ever and I have very good memories from that day. The championship is now closer but there is still a long way to go; we must keep going with the points. It looks like the weather will be a big thing and we'll just have to adapt to the situation."
Lorenzo has been in outstanding form lately, and hopes that this remains the same come race-day: "Of course the last two years here have been bad for me. In 2011 I crashed on the first lap, and last year in the first corner. But Assen has been my favourite track always and it's a pleasure to race here. I feel strong at the moment, I'm in the best shape of my career and the Yamahas have improved a lot this year."
Marquez, who last time out was the on-track entertainment as he tried to fight his way past Pedrosa, is looking to make a move stick this time: "This is a track I like. It will be interesting to see how it is on a MotoGP bike and we'll pay attention to the weather because that will be the biggest problem this weekend, but anyway we will try to be ready. Some circuits are more difficult and others easier. The first laps might be difficult, but we'll already know the best lines and be working on setup by the end of FP1."
Dovizioso, who tested the factory's "lab bike" once more in the Catalunya test, will line up with the regular GP13 for the race: "It was nice for me to do a podium with Yamaha last year, but it's a difficult track for me. But this year [with Ducati] it's not easy; I'm trying to get the best results but it's not possible. We've not improved as much as we want. Ducati is working a lot at home, but what we have now is not enough, so we need to work in a different way."
Still looking for that elusive podium, Bradl will be squeezing the maximum out of his satellite Honda on the fast Assen track to change that: "The last two races were not so bad for us as we were close to the podium. The first three were definitely not what we expected, but now we have found our speed and resolved the issue with the front. My qualifying was good last year, now I just need to improve on the race result [having crashed]."
Smith lines up on the grid after having finally had surgery on his badly damaged finger from Mugello: "I went to Dr. Mir after the last GP and had a skin graft and a screw in my scaphoid. Surgery is not the ideal thing during a season, but I don't want recurring issues throughout the year. MotoGP is a really tough challenge; more than I thought it would be – but fun as well! In Barcelona I started putting things together and got a good result, and hope to keep improving throughout the season."
The Englishman also discussed his situation with regards to next year: "It's true that I have a contract and true that there is a lot of talking. What else can I say? As far as I am aware, my management company are happy with everything that is going on and the Yamaha people have believed in me this year. It is always going to be a difficult situation with the number of riders in our team and the number of riders that are supposed to be coming in. Right now I have a contract, Yamaha haven't said anything and I am looking to stay in the same team."
Latest news
Thursday, 22 January 2015

Thursday, 4 December 2014

Thursday, 27 November 2014

Tuesday, 25 November 2014

Wednesday, 19 November 2014

Tuesday, 18 November 2014
Read more »