Barbera hopes for improvements at Jerez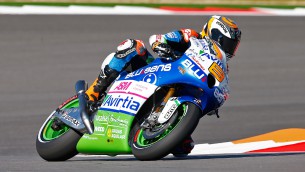 Hector Barbera has experienced a frustrating start to the 2013 MotoGP™ season, feeling as though his and Avintia Blusens' true form has been masked by a selection of problems. The Spaniard now hopes for a turn in fortunes as the sport heads to the first of four races in his home country this season.
The Gran Premio bwin de España comes after a pair of 'flyaway' events in Qatar and Texas, with Barbera having run into trouble on both occassions to manage no more than respective race finishing positions of 13th and 18th.
"After two difficult races in which I have not had much luck comes the Grand Prix in Jerez in which, as you can imagine, I love to compete," he says. "I also hope things move onwards and upwards so we can start to achieve our goals. This race is a special one because it's always an extraordinary atmosphere, thanks to the public.
"There is no doubt that the Spanish riders have an extra motivation when we get to the races at home, so I hope to take advantage of that and put on a great weekend showing for the team and fans. The equipment works well and I feel strong so - providing luck doesn't turn on us again - we can get a good result."
Barbera now strives to carry his FTR bike to the top CRT spot, preventing what would be a third perfect weekend for Aleix Espargaro and Power Electonics Aspar.
Latest news
Saturday, 31 January 2015

Thursday, 29 January 2015

Thursday, 22 January 2015

Wednesday, 21 January 2015
Read more »
Thursday, 22 January 2015

Thursday, 4 December 2014

Thursday, 27 November 2014

Tuesday, 25 November 2014

Wednesday, 19 November 2014

Tuesday, 18 November 2014
Read more »