Successful "arm-pump" surgery for Bradl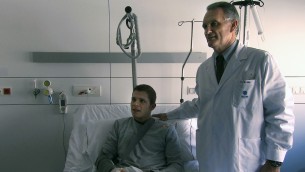 The LCR Honda MotoGP rider Stefan Bradl underwent an operation yesterday, on the day of this 23th birthday, to repair a chronic compartment syndrome of the right forearm in a procedure carried out by Dr. Xavier Mir, Head Surgeon of Hands and Upper Extremities at Instituto Universitario USP Dexeus in Barcelona.
The German will leave the hospital today and will be able to start functional recovery within three weeks.

Stefan Bradl
"After the arm pump problem I suffered in Japan this year at Motegi GP I had my first medical check with Dr Mir two weeks ago and together with the Team we decided to have this surgery quickly. The operation turned out really well and Dr. Mir told me my arm was better than he thought, so I am really pleased we took the decision and operated. It's weird to celebrate the birthday at the hospital but some of my technicians came to visit me and the medical staff have been very nice with me."
Press release courtesy of LCR Honda MotoGP.
Latest news
Thursday, 22 January 2015

Wednesday, 21 January 2015

Wednesday, 14 January 2015
Read more »
Thursday, 22 January 2015

Thursday, 4 December 2014

Thursday, 27 November 2014

Tuesday, 25 November 2014

Wednesday, 19 November 2014

Tuesday, 18 November 2014
Read more »