Bradl declared fit for opening practice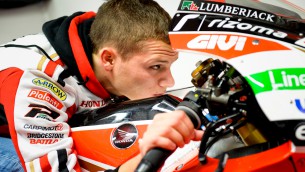 Thursday
, 17 October 2013
Stefan Bradl has been given the all clear to take part in opening practice for the Tissot Australian Grand Prix. Following that opening period on Friday, the German – who suffered a fractured ankle in Malaysia – will be further assessed in order to decide whether or not he will be able to continue with the Phillip Island weekend.
Bradl suffered the injury immediately before qualifying at Sepang on Saturday afternoon, crashing at Sepang's first corner. Having undergone surgery in Kuala Lumpur that night, he returned on Sunday to watch the start of the premier class race joined by fans in the main grandstand. He now hopes to race in Australia.
"I am happy to be declared fit from the doctor side, but for me it's important to try the bike and see what's going on," the German explains. "I still do not know if it's painful or not. Secondly, we will see how fast I can ride and, if I pass the second medical check tomorrow after the first practice, I am pretty sure that I won't be capable to fight for the top five on Sunday.
"We will try to find the right balance to get an acceptable rhythm; we are lucky because this circuit does not have so many right-handed corners and this is positive but the first right corner is more than 200 kilometres per hour, so it won't be easy anyway. I want to express my sincere thanks to the guys from the Clinica Mobile because they have helped me a lot over the last few days."
Last year at Phillip Island, Bradl finished in sixth position, having been second and on the podium towards the end of his title-winning Moto2™ campaign 12 months earlier.