The CEV Buckler 2012 comes to an end at the Comunidad Valenciana Circuit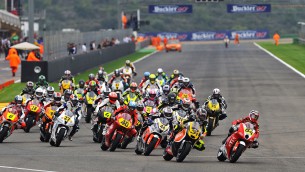 Thursday
, 15 November 2012
This weekend, the CEV Buckler will conclude at the recently resurfaced Comunidad Valenciana Circuit. Here, the title for the Moto2TM and Kawasaki Ninja Cup, as well as second and third place in the Moto3TM and Stock Extreme, will be decided. Nearly 150 entrants from 23 different nationalities will fill the grids for the last round of one of the most important international championships of motorcycle racing today.
The Moto3TM category has managed to keep spectators on tenterhooks race after race. Luca Amato (who takes part in the World Championship as well) comes to the round in Valencia in second position, followed by Italian Francesco Bagnaia, Spaniard Juanfran Guevara (who came in 12th in the Valencia Grand Prix last weekend), British rider John McPhee, fellow Spanish rider Marcos Ramirez and German Phillipp Öttl (who, like Juanfran Guevara, locked horns with the World Championship riders in the last GP of the season, and finished in 11th). All of these riders have a mathematical chance to become runner-up. In this way, their positions on the grid will be very important in determining who will join the already declared Champion, Álex Márquez, in the Top3. Expect a relentless fight for positions with the arrival of some World Championship riders such as Arthur Sissis and Alan Techer, as well as other rising stars within International Motorcycling like winner of the CIV Kevin Calia, Jules Danilo (runner-up in France) and Remy Gardner.
There will definitely be a fight in the Moto2TM category, where the title is still up for grabs. Jordi Torres and Román Ramos, will arrive at the circuit this weekend with Torres in the lead, followed closely by Ramos. Torres' only concern will be the threat of an attack from the Cantabrian rider, seeing as the other riders are mathematically out of the fight for Championship title. However, Ramos will have to watch out for Kenny Noyes and Alejandro Mariñelarena who will fight hard to become runner-up. Meanwhile, Dani Rivas (who played a big role at the Moto2TM World Championship as a wildcard entry at the Valencia circuit last weekend) has the opportunity to climb up to third place.
The situation in Stock Extreme is the same as Moto3TM in that the title has already been awarded to Carmelo Morales, who has proven himself to be untouchable this season. All the action will be in the fight for runner-up and third place. The main contenders are Kyle Smith (who was recently confirmed as a permanent rider in the 2013 Moto2TM World Championship), Santiago Barragán, Adrián Bonastre and Xavi Forés. With a small difference in points between them, this will be an intense weekend where the outcome is impossible to predict.
Julio David Palao arrives at Valencia as leader of the Kawasaki Ninja Cup ahead of Ignacio Contreras, Hugo Martínez and Javier Hidalgo. All four riders have a mathematical chance to win the title, so anything is possible.
Latest news
Wednesday, 17 December 2014

Saturday, 13 December 2014

Wednesday, 10 December 2014

Saturday, 6 December 2014
Read more »
Thursday, 4 December 2014

Thursday, 27 November 2014

Tuesday, 25 November 2014

Wednesday, 19 November 2014

Tuesday, 18 November 2014
Read more »