Antonelli, Torres, Forés and Palao on pole for the final race of the CEV Buckler 2012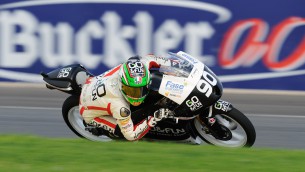 Saturday
, 17 November 2012
The resurfaced Comunidad Valenciana Circuit played host to official qualifying at the last round of the CEV Buckler 2012. Although there was a threat of rain all day, in the end, the Valencia track kept free of it. However, riders in the Moto3™ and Stock Extreme had to go up against the rain fall of last night that left water on the track.
Before official practice for the Moto3™ had even started, it was confirmed that the category's champion - as he was declared at the last instalment of the CEV Buckler - Álex Márquez would not be competing in the race due to a crash in free practice. Italian Niccolo Antonelli was the fastest rider today, ahead of South African Brad Binder, both of whom are competitors in the World Championship. Italian rider Francesco Bagnaia made it up to third place, in front of Juanfran Guevara (who has just confirmed he will take part in the World Moto3™ next season) and another World Championship rider, Arthur Sissis.
The first round of the fight for the Moto2™ CEV Buckler title took place today. The two hopefuls, Jordi Torres and Román Ramos, showed themselves to be equally strong and therefore, extremely competitive. In the end, pole position went to Torres by the meagre margin of 22 thousandths of a second. Dani Rivas completes the front row of the grid followed by Mariñelarena and Noyes who are fourth and fifth, respectively. These three riders will fight it out for third position in the Championship.
In Stock Extreme, Xavi Forés was quickest meaning he managed his first pole of the season. Kyle Smith, who faces his last race in the CEV Buckler before stepping up to the Moto2™ World Championship next season, was only 45 thousandths of a second behind him. Carmelo Morales finishes off the front row, starting in third position.
Julio David Palao will start in pole position in the Kawasaki Ninja Cup, which celebrates what will be its last race this weekend. In second place will be Francisco Javier Hidalgo, followed by Sergio Mora. Palao's main rivals in the fight for the title, Martínez and Contreras, finished fifth and sixth respectively.