Decision of the Grand Prix Commission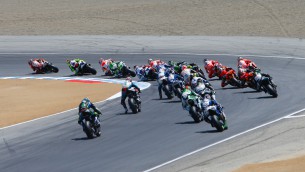 The Grand Prix Commission, composed of Messrs. Carmelo Ezpeleta (Dorna, Chairman), Ignacio Verneda (FIM Executive Director, Sport), Herve Poncharal (IRTA) and Takanao Tsubouchi (MSMA) in the presence of Javier Alonso (Dorna) and Mike Trimby (IRTA, Secretary of the meeting), in a meeting held on 17 August in Indianapolis (USA), made the following decisions:
SPORTING REGULATIONS
MotoGP Class - Effective 2014
Testing
Manufacturers are permitted to nominate one circuit at which they may test with their contracted riders for a maximum of five days during the season. This will enable them to develop and test new technology with their principal riders in a private test environment.
Entries
As a consequence of manufacturers agreeing to lease additional machinery it was necessary to amend regulation 1.11.10 concerning entries.
Manufacturers will be permitted to make two direct 'Factory' specification entries in their own team and to lease Factory specification machinery for a further two entries. They may now also lease machinery for additional entries. These machines will run under the non-Factory regulations for the class.
OTHER MATTERS
MotoGP Class Wild Card Entries
The wild card application for Katsuyuki Nakasuga at the Japanese GP was approved.
Latest news
Thursday, 5 December 2013

Wednesday, 20 November 2013

Tuesday, 19 November 2013
Read more »
Wednesday, 27 November 2013

Wednesday, 20 November 2013

Thursday, 14 November 2013

Saturday, 9 November 2013
Read more »