Dovizioso and Hayden prepared for triple-header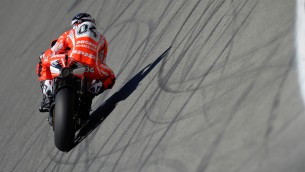 Indianapolis marks the start of a triple-header that will see the MotoGP™ community race at the world-famous Motor Speedway as well as the Czech Republic's Brno and Great Britain's Silverstone, packed into the space of two weeks. Ducati Team's Nicky Hayden and Andrea Dovizioso look forward to resuming battle.
Hailing from Kentucky, Indianapolis is effectively a home event for Hayden.
"It was nice to get rested up for a couple weeks, but I'm looking forward to the second half of the season which I hope will bring us some better results than the first half did," begins the champion of 2006. "I'll be happy to be back in the garage with my bike and my team. I don't have to tell anyone how special Indy is to me, as that should be pretty obvious with it being my true home race.
"The support I had from the Laguna crowd was incredible and I'm expecting nothing less at Indy. I think the track might be a little better for us than the last couple were. It's a tricky little circuit with a couple of technical corners. We'll try to come out of the gate strong on Friday, have a solid weekend and have some fun."
In the standings, Dovizioso – who joined the factory Ducati outfit at the start of 2013, switching from Monster Yamaha Tech 3 – sits 16 points ahead of his teammate.
"The Indianapolis track is a bit strange, with asphalt that changes from corner to corner, and it's difficult for all of the riders," the Italian explains. "In fact, there were a lot of crashes there last year. I'm not sure how it will be with the Ducati, not having ridden it there. I've never had good luck there in the past, although I did make the podium last year."
The Red Bull Indianapolis Grand Prix has been part of the MotoGP™ calendar since 2008. This season, it hosts Round 10 of 18.
Photos: