Espargaro weighing up Yamaha/Aprilia options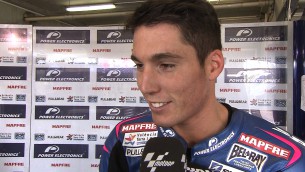 Prior to the official announcement that NGM Mobile Forward Racing will be competing with a modified Yamaha M1 chassis in 2014, Aleix Espargaro insists that he will first observe the decisions made by current team Power Electronics Aspar before deciding to make any team switches of his own.
Espargaro has set the CRT pace at every race meeting so far this season and is generally regarding as a sought-after rider up and down the pit lane.
"We have the Yamaha option at Forward," Espargaro explained to motogp.com during an exclusive video interview at Brno on Friday. "It is not a bad option at all, but we first need to wait to know the decision of my team, which is in talks with Aprilia to know whether they want to make a (prototype) bike next year or keep this one. For the moment, we need to wait and find out - and then decide.
"It's not easy. The Yamaha is a really, really good bike but, as we have seen this year, our bike – being a CRT – is really close to (prototypes), so if Aprilia does want to make a (prototype) it could be a really, really good project."
Quizzed further over the Forward Racing option, which has been further clarified by Yamaha Factory Racing's Managing Director Lin Jarvis, Espargaro replied:
"I know that they are preparing a really, really good team for next year and the bike they will have will be a really competitive bike. It is normal that a lot of riders would like to go there. Me too – I would prefer the Yamaha over my CRT of this year, but the question is: which bike will Aspar have next year? Let's wait and we will see…hopefully this weekend [smiles]."
It has already been confirmed that Aleix Espargaro's younger brother Pol, a current Moto2™ title contender, will step up to MotoGP™ in 2014 as he joins Bradley Smith at Monster Yamaha Tech3.
Latest news
Friday, 19 September 2014

Thursday, 18 September 2014

Wednesday, 17 September 2014

Tuesday, 16 September 2014

Monday, 15 September 2014

Sunday, 14 September 2014

Saturday, 13 September 2014

Wednesday, 10 September 2014

Thursday, 4 September 2014
Read more »
Friday, 19 September 2014

Wednesday, 17 September 2014

Tuesday, 16 September 2014

Monday, 15 September 2014

Sunday, 14 September 2014

Friday, 12 September 2014

Wednesday, 10 September 2014

Tuesday, 9 September 2014
Read more »