European Championship: poles for Migno in Moto3™, Ramos in Supersport 600 and Forés in Superstock 1000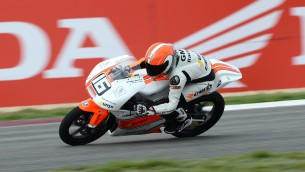 The preliminaries of the 2013 FIM Europe Road Racing European Championship were marked by heavy rain which inundated the Albacete circuit the day before the start of the event, although it failed to completely disrupt the practice sessions. A rapid and effective response by the organizers allowed riders to get out onto the track on Friday and get to know the eight right-hand and five left-hand curves that make up the Spanish circuit.
Today the weather improved and the mild temperatures, sun and lack of wind allowed the riders to perform at their best in a magnificent day's qualifying. In fact, Migno's pole lap was one and a half seconds faster than the quickest lap achieved in the previous 2013 practice sessions.

Pole position was taken by Andrea Migno (ITA-FTR Honda) in Moto3™. The GMT Racing rider chalked up a modest sixth fastest time in the first qualifying practice session today, but went all out in the second round to snatch top spot on the grid. In second place on the starting lineup will be Karel Hanika (CZE-KTM), who was the revelation of the day. The Czech rider set the fastest lap of the first qualifying practice, although it was his 18th lap of the second session which won him second place on the grid, barely three-thousandths behind the pole position rider. The front row of the grid is completed by Alejandro Medina (SPA-KTM), Team Calvo rider and currently ranking fourth in the CEV Repsol.

As the only rider to go under one minute 32 seconds ―1:31.750― Román Ramos (SPA-Kawasaki) will start from the first position in the intermediate category, Supersport 600. The Team Stratos rider has everything in his favour: his current leading status in the CEV Repsol means he knows every inch of the track, and riding a Kawasaki is nothing new to him - he was winner of the Kawasaki Ninja Cup in 2007. In second spot was Alberto López (SPA-Yamaha) who returns to the national scene after riding in the Brazilian championship. Stefan Kerschbaumer (AUT-Yamaha) was among the quickest in the two timed practice sessions today, earning himself third place on tomorrow's grid. The best junior rider in 600 Supersport was Ángel Poyatos (SPA- Halcourier).
In Superstock 1000 Xavi Forés (SPA-Ducati), Carmelo Morales (SPA-Kawasaki) and Iván Silva (SPA-BMW) will occupy the front row and are all clear candidates for the podium, but they will have to keep a close eye on Antonio Alarcos (SPA-Kawasaki), Miguel Ángel Cortés (SPA-Yamaha) and Marko Jerman (SLO-Suzuki) who are right behind them and look very promising. Fran Rodríguez (SPA-Kawasaki) was the quickest junior in the category today.
Latest news
Thursday, 19 February 2015

Wednesday, 18 February 2015

Tuesday, 17 February 2015

Thursday, 12 February 2015

Wednesday, 11 February 2015

Tuesday, 10 February 2015

Thursday, 22 January 2015

Thursday, 4 December 2014

Thursday, 27 November 2014
Read more »