Folger moves ahead in second Jerez practice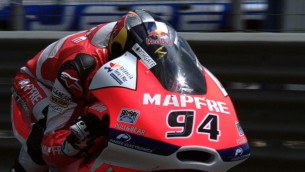 Jonas Folger topped the timesheets as Moto3™ practice continued in Jerez on Friday afternoon. The Mapfre Aspar Team Moto3 rider led Estrella Galicia 0,0's Alex Rins and Team Calvo's Maverick Viñales as a power cut at the Circuito de Jerez caused a number of extra challenges for teams in the pit lane.
Outside, conditions were ideal as the 34-rider field streamed out of the pit lane shortly after one o'clock. That number will increase to 35 tomorrow, as Redox RW Racing GP's Jakub Kornfeil returns after completing compulsory exams today.
Indoors, things were slightly more chaotic as a power cut forced teams to resort to their grid tyre warmers, as the mains electricity supply was limited due to the power problems.
Second this morning, Folger moved ahead this afternoon courtesy of a best effort of 1'47.660. Rins was second, but pulled off the track with a technical problem in the final minute. As Viñales returned to Jerez for the first time since the pre-season testing accident in which he lost a finger tip, Red Bull KTM Ajo pairing Zulfahmi Khairuddin and Luis Salom – who had topped opening practice – sandwiched Ambrogio Racing's Brad Binder in fourth, fifth and sixth positions.
That left Efren Vazquez seventh for Mahindra Racing, with Romano Fenati reaping the rewards of San Carlo Team Italia improvements to go eighth. The top ten was rounded out by Estrella Galicia 0,0's Alex Marquez and Avant Tecno's Niklas Ajo.
As technicians attended to the power issues, the following Free Practice 2 session for the MotoGP™ class would start seven minutes later than scheduled.
Moto3™ will be back in action on Saturday, with the third and final practice period beginning at 9am local time (GMT +2).
Latest news
Tuesday, 16 September 2014

Monday, 15 September 2014

Sunday, 14 September 2014

Saturday, 13 September 2014

Wednesday, 10 September 2014

Thursday, 4 September 2014

Tuesday, 2 September 2014
Read more »
Tuesday, 16 September 2014

Monday, 15 September 2014

Sunday, 14 September 2014

Friday, 12 September 2014

Wednesday, 10 September 2014

Tuesday, 9 September 2014

Thursday, 4 September 2014

Tuesday, 2 September 2014
Read more »